Today's article covers everything you need to know about raffles and giveaways. This is a good way to gain traction with your camming profile and social media followers. You'll know what you need to do in order to boost things for you.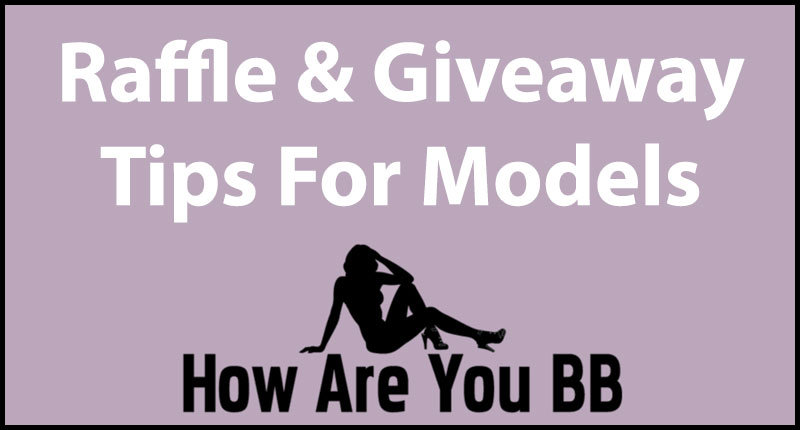 Tips On Holding Raffles & Giveaways For Fans
Holding raffles and giveaways is a really fun way to engage with your fans and earn extra money. It's always a good idea to come up with fun new ways for your fans to interact with you, and raffles or giveaways are a win/win for you and your fans!
You'll earn extra money for each person that enters, and your fans will not only have a good time watching and participating in the whole process, but also have some friendly competition and playful interactions with each other.
When you go to give out your prizes to the winners, it's awesome to see how excited and appreciative they are. You've now made someone else's day that much better, and your pockets fuller!
Go Live!
One of the best places to hold raffles and giveaways is when you're live on cam. These raffles and giveaways generally draw the most attention and are the most fun for both you and your fans since everything is happening live right in front of them.
On sites like Myfreecams where your fans can leave you tips while you're offline, you can even make money from your raffles and giveaways while you're away! To increase the odds of people entering while you're offline, some models will give extra tickets to those who enter when they're not on camera.
Stores
Although not nearly as interactive, you can also hold raffles and giveaways on sites where you have a storefront. ManyVids, Cam Model Store, and Extralunchmoney are a few good examples.
All you have to do is create an item, put in the details (how long it's gonna last, what the prizes are, cost per entry, etc.), and explain that every time they purchase that item, they'll get one entry into your raffle.
Announcing Winners
You can then announce the winners on social media, make a video of you drawing the winners, or even jump on cam and do the drawing live.
If you have multiple storefronts on different sites, you can list your raffle on all of the individual sites and combine the entries. Just make sure you write on the tickets (or whatever you're using) what site they bought the entry on so you can easily get in contact with the winners.
Tracking Entries
That takes us to the next part… how to keep track of entries. Some models, me included, like to use actual raffle tickets and write usernames on them. I just think it adds to the excitement when I draw a ticket and can immediately hold it up to the camera and the winner can see his/her name.
You can get tickets for around $6 on Amazon. These are the ones I use. You can, of course, also just use paper to write usernames on if you don't want to be so fancy. 😛
If you get a lot of entries into your raffles, you may not want to take the time to write them all out. So a good alternative is an Excel spreadsheet. You can purchase tickets on Amazon that have unique numbers on each ticket.
Use A Spreadsheet
Start a spreadsheet with the first ticket number and use the fill option to put the rest of the numbers in. Then when someone enters, put their username in the spreadsheet the number of times they entered and put the tickets with the correlating numbers in a hat. When you go to draw the winners, just match the ticket numbers up with the usernames in your spreadsheet.
Amazon Wishlist Them
Another fun way to hold raffles is through your Amazon wishlist. I like to create a new wishlist and put a certain number of gifts from my main wishlist on it. I randomly pick one item to be the grand prize item.
I tell my fans that they get a prize for every item they purchase, but an extra special prize if they purchase the grand prize item. I get a lot of engagement from these kinds of raffles and my fans seem to enjoy them. As long as you're only accepting adult-friendly payment processors, you can even hold raffles strictly on social media.
Conclusion
The prizes that you offer for your raffles are completely up to you. Some popular prizes include custom content, videos, pictures, Skype, website memberships, Snapchat access, used panties, autographed photos, gift baskets, and baked goods. Now that you know what to do for raffles and giveaways, I strongly suggest taking action on them!