If you're not actively posting on social media, then you're losing. Yup, you read that right. Today I'm going to share information on why social media is so important for just about anyone – especially webcam models. Building a fan base helps improve your earnings and it also helps you build a bigger name. Here's what you need to know about increasing your reach and fan base.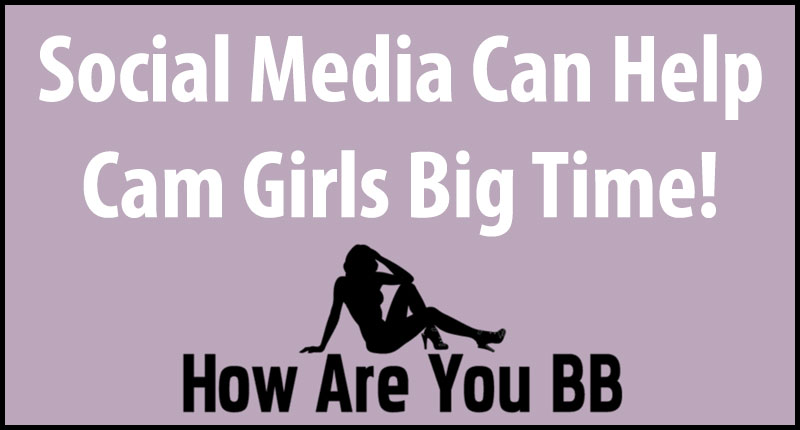 Enhancing Your Fan Base And Your Wallet Wia Social Media
Did you know that there are women making six-figure incomes using social media sites like Twitter, Snapchat, Instagram, and Kik? Seem like an impossible task? It's actually easier than you think.
Creating a strong social media presence is as important as turning on your camera for your cam show. You want to build yourself up as a brand—a bankable brand. Having lots of followers can lead to endorsements, ad sales, affiliate sales, or in some cases, a modeling contract.
If you're new to the social media game it can seem intimidating to jump in. It's best to start with the most adult-friendly platforms like Twitter, Snapchat, and Instagram. Instagram isn't entirely adult content friendly but they'll make exceptions if you censor your images (i.e. use Emojis to cover your nipples).
Instagram
Instagram is one of the best platforms for becoming a 'fit tea girl' which is an Instagrammer insider joke for women who promote detox teas and waist trainers.
Those girls make serious money advertising weight loss products and exercise gear. Other girls use Instagram to show off their favorite lingerie or swimsuits and get paid to promote the brands they love.
How do they do it? First, they amass a large following, then they tag their favorite companies in their photos and mention them in their captions. The companies will oftentimes reach out to the cam girl and offer either a discount on their product, an affiliate code, or they'll pay for a sponsored post.
Sponsored posts make anywhere from $30-$1,000 which means you post the brand's picture for an hour and then take it down. Some girls will leave the posts up but other girls don't like to be so blatant in their advertising.
Advertising other brands aren't the only thing Instagram is good for. It's also a great way to advertise your shows (and your other social media outlets.) You don't want to make a habit of posting solely about your upcoming shows, but a flirty photo and a link to your cam site (in your bio) could be a great way to drive traffic to your show.
Twitter
If posting photos of your everyday life to make money isn't your thing, then consider joining Twitter. Twitter is a great tool for promoting your shows and showing off your, ahem, assets.
A lot of girls set their Twitter account to private and charge money to their fans during cam shows to unlock access to their Twitter account. Cam girls typically charge fans between 100 and 200 tokens for access to their Twitter account.
Snapchat
Snapchat is another great social media tool for making money or building up your brand. Snapchat stories allow you to piece together a daily story showcasing your life which is something your fans will definitely be interested in seeing. There's even a program called Snapcash…
Snapcash allows fans to send you money directly through Snapchat. So if a fan wants to talk to you, you can charge them via Snapcash. Because Snapchat is a no-holds-barred venue for cam girls to connect directly with their fans there are tons of forums where you can find potential fans looking to interact with cam girls.
The only problem with Snapcash is that some fans will cancel payment directly after they request a photo or chat with a girl. It happens frequently on Paypal and other money transfer services as well, so be wary of new customers.
Kik
The fourth social media platform you should jump on if you're a cam girl is KIK. You can change your fans to talk to you on KIK and have one on one conversation. It's an easy way to make your fans feel connected to you, which typically equates to larger tips in future shows.
TikTok
This is the latest and greatest platform to cash in on. If you're not recording TikTok videos, then you're leaving money on the table – simple as that. You've got to get things going and doing this if you want to win as a cam girl.
Conclusion: Social Media Can Help Every Cam Girl Grow
No matter what social media platform you choose to use (and really you should choose all of them) you need to be extremely consistent. Post every day, at least three times a day to all your accounts and vary your posts.
No one that's paying for unique content wants to see the same selfie on Instagram, Twitter, and Snapchat. Give your customers some variety and they'll be followers for a lifetime. The most important aspect of any social media campaign is to think of yourself as a brand.
Don't post things that are off-topic or too sales-pitchy. It's ok to talk about yourself and tell people what time you'll be camming, but they want to see you as a human being, not just another face selling a product. Ingratiate yourself with the fans, make them care about you, and soon you'll be raking in the tokens.