You can always learn a great deal about the webcam business by talking to professional webcam models. We have interviewed a ton of cam models over the years and the list below showcases the links below. Please check out the list of models and the interview links below.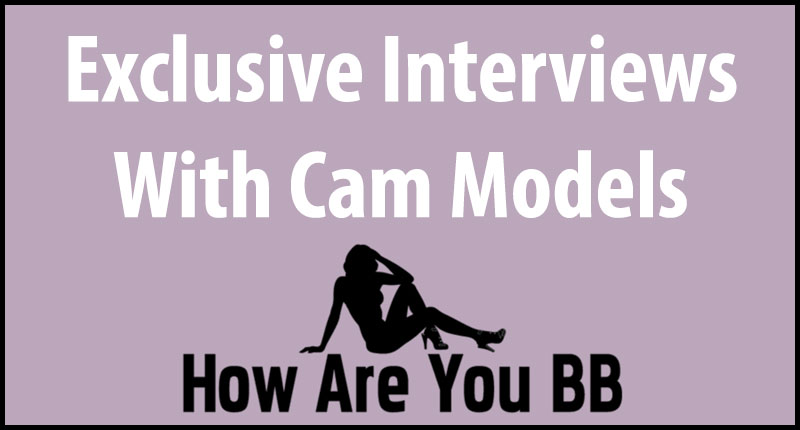 Webcam Model Interviews
Selena Adams is a top webcam girl on many platforms. The beautiful Selena uses Cam Soda, Naked, and many more. She has been webcamming for years and maintains a very popular and active Twitter and Instagram following. She is based out of Miami, Florida, and is a genuinely nice person.
Sasha Meow is a top webcam girl on the naked.com platform. She used to be based out of Miami before moving to new york to pursue her comedy career. She still treats naked as her full-time day job and at night you can find her at the comedy clubs making people laugh (or throw tomatoes).
Abella Anderson is THE top girl on the naked.com webcam site. She began her career as a pornstar but transitioned out of that and got into webcam modeling when she saw more flexible hours and higher pay.
Mia Khalifa – There is a new sheriff in webcam town and her name is Mia Khalifa. Her return to the webcam generated so much buzz that she was able to crash some very high-powered servers. You may remember her as the famous pornstar who abruptly retired after starting a wildly successful Hummus brand. Her tagline brought her a lot of national attention and heat "Hummus so authentic, homeland security will flag you." She now cams exclusively on naked while overseeing her 120 person hummus operation in her spare time.
Dirty Little Holly – the brains behind the operation! not only can she perform on multiple cam sites and earn a lot of revenue selling all kinds of content, but she is also one of our seasoned pro writers here at how are you bb!
Sunhiee – This hottie deserves an award for all her wittiness and allure on cam. Sunhiee has been working her way to the top for quite some time now and deserves a special shout-out. Check out this beautiful Geisha styled princess, streaming directly from Las Vegas.
Kati3Kat – This young & Fun beauty is definitely a breath of fresh air between the crowds out there. With the heart of a tomboy and the beauty of a Prom queen, It's a show you won't want to miss.
Scout – Self described as "The Kanye West of Camming" the simplistic beauty and confident nature of this Camgirl can only be captured by seeing her broadcast live.
Ginny Potter – Obviously a Harry Potter fan, this camgirl brings being a redhead to the next level. Ginny Potter's shows are different each day, Sometime's she's a sex-driven freak, other days she's a sweet, prude young girl.
Petite Marie – This bad girl is an experienced Camgirl. She's been broadcasting full-time for over 3 years and proclaims to be totally addicted to it. Catch one of Petite Marie's live shows to get the full experience.
Kickaz – Originally from the U.S.A, this camgirl decided to move to Mexico and live an adventure of a lifetime. Kickaz's shows focus on art and the beauty of the female form. Watch her broadcasting if you're looking to spice things up and experience something completely different.
Nintendoxo – Eccentric is not enough of a word to describe her. Obsessed with cats and video games, this camgirl will lead you to a world filled with magical creatures, animals, and crazy, high-intensity orgasms. Check out her room if you're looking to get an escape from the real world.
Harli_LottsAF – A Biology Major and soon to be doctor, visit this camgirl's room for intelligent conversations, Triple D breasts and a whole lot of fun. Who said smart girls can't be sexy?
Nevamore – This CamGirl has the looks of a sweet, shy girl. She is everything but. At 5'2 and 105lbs, this bundle of joy brings the word "Dominatrix" to a whole new level.
KissofaCobra – With a whole lot of humility and appreciation for her fans, this gorgeous, blonde bombshell is friendly, sexy, and likes to get really kinky on cam. Watch her shows for some good old fashioned sex therapy!
HyruleFairy – Obsessed with fairies, gaming, and cosplay, check out Kiyoko's room if you're into electronic music and dancing. This camgirl can make it look like there's a rave in her room.
MissMoly – Celebrating her 4th Cammiversary this year, MissMolly is one of the hottest girls in the industry. To celebrate, she is giving her top tipper a 1 on 1 trip to Disneyworld! If you're new to her sex shows, keep watching to participate in raffles and giveaways. She does one weekly!
Jalyn – With extremely loyal fans and a flair for the naughty, Jalyn definitely brings viewers what they want. Go into her room for kinky conversations and a live sex show you won't forget.
Amberwtf – Young and full of life, Amber claims to do just about anything to keep fans in her room.  This bad girl does it all, From squirting to hardcore anal. Your wish is her command.
JustBea – This 24-year-old girl is sweet, sexy, and funny. Her room is all about peace and love, JustBea makes it very clear that her room is a no-judgment zone. She wants to make her fans as comfortable as possible and give them a space to say anything that's on their mind.
ScarlettMiles – This girl next door is filled with Southern charm and friendliness. She claims to be an authentic Southern girl with a bit of a naughty side. Her profile guarantees that she will be your new favorite camgirl. Willing to give it a try?
MandyLohr – Mandy is not your typical girl, she spends her life traveling – find her in a different place each time she broadcasts. Oh, and did I mention she loves fetishes? This camgirl is sure to rise quickly to our top lists.
AdySweet – This Hungarian model brings sensuality to a whole new level. She enjoys showing off her curves on cam by stripping, dancing, and teasing. As the night progresses, her shows get naughtier and naughtier. You will find yourself eager to spend more time with her.
PoppyNaked – This flirtilicious camgirl loves getting naked on cam! Driven by a strong sense of sexuality, she really gets a kick out of making her fan's sexual fantasies come true.
SashaBae – This Russian hottie is all about expressing her sexuality through music and art. Sometimes showcasing her accordion & ballet dance skills on cam, SashaBae (AKA Lovely Kitty) is the kind of girl who is the whole package.