TL; DR – This article covers which studios are the top camming studios in the world today. Keep in mind that we're not talking about platforms like Camsoda, but instead studios. This is where models such as myself work on a regular basis when we're not working from home. If you're looking to get started in the camming industry and there's a studio nearby, it's a good place to start! I cover the top 15 below. Let's get this party started!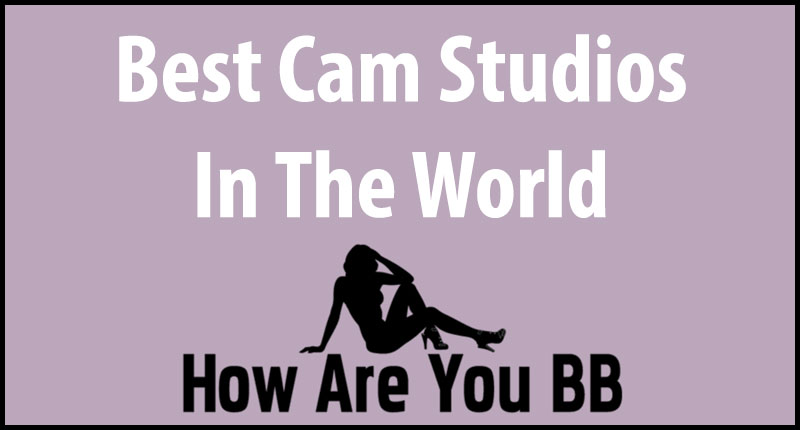 Are you interested in pursuing a career as a live streamer, but don't want to tackle it alone?
Searching for the best live cam studio or webcam studio that can assist you in kickstarting your journey as a cam model?
Becoming a webcam model can be a highly competitive field in the camming industry, despite its potential for lucrative earnings.
If you lack the time to market yourself effectively while managing your camming activities, achieving a reported six-figure income might be challenging.
That's where the best live cam studio and agencies come in to lend a helping hand.
Every minute of every day, countless individuals, both women, and men, are vying for an online audience.
While with dedication and consistency, you might eventually build a loyal fan base, many aspiring cam models choose to work with cam studios or agencies, or often cam sites at the beginning to gain valuable support, learn the ropes, and expand their reach.
In this comprehensive guide, we'll explore the reasons behind opting for a live cam studio or agency to kickstart your webcam modeling career.
We'll also provide you with a rundown of some of the top webcam studios and agencies, along with a step-by-step process on how to sign up with them.
The Best Webcam Studios and Agencies
Studio 20
Studio 20 is the best cam studio with locations in Romania and international studios in Los Angeles, California, and Colombia. They have won industry awards and offer high-quality equipment and professional coaching. Webcam models can earn up to $25,000 per month and receive a high commission rate of up to 65%.
M Group
M Group is an international agency based in Europe and Colombia. They provide support services, training, and professional advice to webcam models. They also offer assistance with live cam pages and interactive sex toys. The agency actively signs up talent and works with both female and male new models.
Rich Girls Studio
Based in Bucharest, Romania, Rich Girls Studio is a luxury camming agency with three studios. They have received numerous awards and offer high-tech studios and professional consultants. Live cam models can earn between $2,000 and $20,000 per month, with bonuses and benefits available.
 Charm Group
Charm Group is one of the largest live cam girl companies in Europe, with studios in Romania. They have several studios under their brand, each with its own branding and selection of top models. The group provides coaching and technical support, and most models can earn between $1,000 and $15,000 per month, with commissions ranging from 30% to 50%.
Angels Studio
Angels Studio is a professional camming agency based in Romania. They have modern studios equipped with advanced technology and offer professional support and coaching to their webcam models. New cam models can earn several thousand US dollars per month, with a guaranteed average income in the first month.
Lourdes Studio
Lourdes Studio is a small independent cam studio in Bucharest, Romania, founded by award-winning cam models. They have a tight-knit team and offer training through their own academy. Many cam models can keep 80% of their gross income after completing training.
NightProwl
NightProwl Studio is a popular Romanian live cam studio and agency. They offer modern cam rooms with 4K technology and provide personalized coaching and training. Live cam models can earn up to $83,000 in a two-week period, with average monthly earnings of $15,000 to $20,000.
Gloria Agency
The Gloria Agency, based in Bucharest, Romania, offers training, consultancy, and high-tech studios for cam models. They have stylish rooms and a dedicated team to help webcam models create their brand.
Most experienced cam models can earn over $5,000 per month, receiving up to 65% of their gross sales. The agency also provides incentives, rewards, and financial support for investments.
Cash Cam Studios
Cash Cam Studios is a US-based company witht the best cam studio in Kingston, Jamaica. They are one of the few agencies operating in the Caribbean.
Their studios offer 20 individual rooms equipped with high-speed internet, high-performance computers, and professional HD webcams. They also provide interactive toys to increase tips.
Alba Studio
Alba Studio is an innovative and professional camming agency based in Colombia. They provide two months of coaching and training to help the webcam model achieve organic growth. The live cam studio offers a comprehensive team of stylists, including access to preferential rates with a plastic surgeon.
AJ Studios
AJ Studios is a prominent presence in the Latin American video chat industry. With offices in various cities in Colombia, they are a multiple award-winning live cam studio and organizer of LAL EXPO.
They offer technically superior services and were among the first studios to provide VR and video conferencing capability.
CM Studio
CM Studios, with three locations in Colombia, is a professional live cam agency focused on improving production quality and revenue for its cam model. They have received awards and nominations from industry names.
This studio offers a secure and stylish broadcasting space with the latest technology. They provide a professional team of stylists and mentors for coaching. However, specific details about earnings and fixed wages are not available.
Interaction VC Studio
Interaction VC Studio, based in Colombia, offers a premium brand and the best cam studio for cam stars to broadcast from. With almost a decade of experience, they have over 300 webcam models working for them.
They provide professional backup, coaching, training, and marketing programs to boost traffic. Interaction VC supports both cam girls and cam performers. Their headquarters blend traditional elegance with contemporary high-tech facilities.
Models 1A
Models 1A is a top camming agency in Latin America with over seven years of experience. They provide high-tech broadcast rooms, professional coaching, and a successful training program.
New models receive a start-up kit and a flexible broadcast schedule. Webcam models can earn competitive commissions and receive bonuses and incentives.
Final Thoughts
Unleash your camming potential and start reaping the rewards! With dedication and training, you'll begin seeing the fruits of your labor in just a few months. But hey, if you feel like your agency or the best live cam studio isn't going above and beyond to help you skyrocket your monthly earnings, don't hesitate to speak up!
Remember, they only make money when you do, so it's in everyone's best interest to ensure your success. Plus, keeping their talent happy is a major priority for these agencies because losing their stars means losing their moolah!
Curious about whether going solo is the way to go? Well, that's a decision only you can make. Just keep in mind that while being an independent cam-from-home broadcaster offers flexibility, you'll be facing stiff competition. With tens of thousands of live cam girls and most cam sites out there, standing out from the crowd is key to unlocking higher earning potential.
So go ahead, take the plunge, and may luck be on your side!
Other Cam Articles I've Published
Don't forget to check out some of the other camming articles that I've published over the years. Here are a few of the more popular ones that I've written.
How To Discover Your Niche In Camming
Public Cams – How To Do It Right