So, this is in fact a review of Streamate, but I'm writing it to share the most important features with you. Find out why I love Streamate and why so many models choose this over other camming platforms.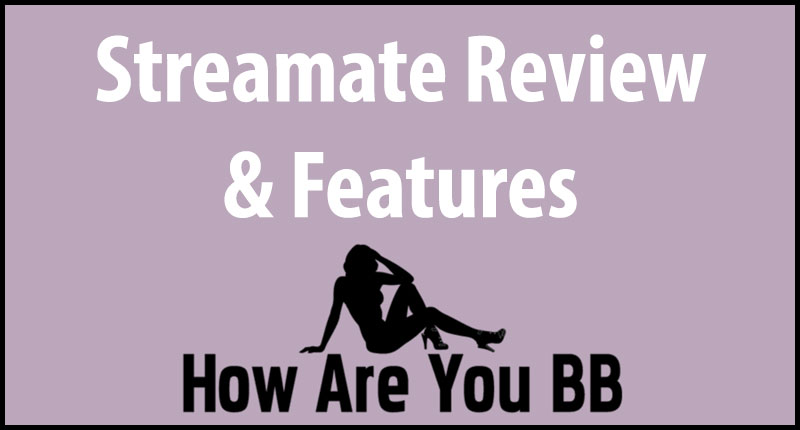 Streamate Review
When deciding which cam site you want to cam on, checking out Streamate is a great option. Unlike some sites where you can perform sexual acts in public, Streamate does not allow below the waist nudity unless you're in a private chat session. The benefit to this is that your content won't get stolen as often and distributed all over the internet and you don't have to beg for tips. If someone likes your look, personality, or the things you offer, they'll take you into private for a show.
There are three different kinds of shows you can do with Streamate: private, exclusive, and gold shows. For private and exclusive, you set your own rate that your fans pay per minute. Generally, your private rate will be set lower than your exclusive rate.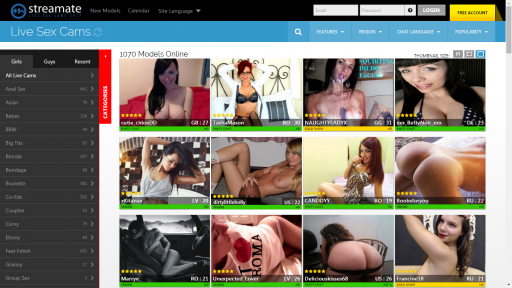 Block Sessions
You can also choose to offer block sessions. Block sessions are "bulk" chat sessions where your fan pays for a committed amount of time with you (15, 30, 45, or 60 minutes).
Depending on the length of the block session they choose, they get a discount off of your normal rate (5% for 15 minutes, 10% for 30 minutes, 15% for 45 minutes, or 20% for 60 minutes).
Once you have accepted a block session offer, you must stream for the entire time block, otherwise, you won't get paid and you could face account suspension.
Private Chat
In private chat, multiple fans can enter your room and watch the show. Because of this, most models will not take requests and just kind of do their own thing and put on a more general show. This way everyone is satisfied.
1)Exclusive is one-on-one, just you and the one fan who took you exclusively. Since it's just you two in there, this is where you can take requests, use their name, roleplay, perform fetishes, and put on a more personalized show for them.
Gold Shows
Gold shows are a bit different. When starting a gold show, you put in your room topic describing what you plan on doing in the show, how much each fan has to contribute to the show in order to watch it, the amount of gold (1 gold= $1 USD) you want to collect overall in order to start your show, how long your fans have to get you to that goal, and how long of a show you're gonna put on. If you reach your goal before the timer is up, you'll definitely start the show.
If you don't reach your goal in time, you can decide to cancel the show (none of your fans who tipped in will be charged and you will not be paid anything) or go ahead and do the show anyway. If you're pretty close to your goal, it's a good idea to just go ahead and start. Some fans will wait until they see if the show actually starts or not before they join. So you may end up hitting your goal during your gold show.
TV Broadcasting
Streamate also has a very cool (and profitable!) newer feature: TV Broadcasts. These shows used to be broadcast on live television, but their television partnership has ended. However, the feature is sill active and a great way to pick up new fans!
TV Broadcasts are very similar to gold shows. The main difference is that they are guaranteed shows. This means that even if you don't hit your goal, you still get paid your entire goal! If you don't hit your goal, Streamate will compensate you about 30 minutes after your broadcast has ended.
TV producers hand pick who to give TV Broadcasts to and they set your goal based off of the average you usually pull in during a gold show. Another small difference is that you must turn off all music and move anything that could be a copyright infringement out of the view of your camera.
Rankings In Site
Your ranking on the site is partially based on ratings that your fans give you. Fans are prompted to rate you between 1 and 5 stars after a private or exclusive session. When they first enter the show, be sure to encourage them to rate you 5 stars afterward. Some models will even offer a video or photo in exchange for a 5-star rating.
Messaging
And that takes us into another feature on Streamate: their messaging system. The way the messaging is set up on the site, you cannot message a fan unless they message you first.
Make sure you always let your fans know this if you offer them a video or pictures after a show so that they know to message you first in order to claim it. Sharing any personal information/social media accounts/other usernames/other websites is against the rules on Streamate.
But anonymous file sharing, such as through Dropbox, is allowed. Be sure that there is no personal information or watermarks (unless watermarked with your Streamate username or URL) on any of your videos or photos that you offer.
Model Centro
The final feature on Streamate that we're gonna delve into is their integration with ModelCentro. ModelCentro is a CMS platform that allows cam models or independent models to easily run their own fansite. If you have a website through ModelCentro, you can link it with your Streamate account and advertise that link when you're broadcasting on Streamate.
You cannot give your actual website URL out, but instead, a banner will be automatically generated on your Streamate profile. When your fans click that banner, they'll be able to sign-up for your ModelCento website. Streamate and ModelCentro both keep a portion of your earnings when you get sign-ups this way.
Your fans' membership will automatically renew each month until they cancel. When they sign-up to your ModelCentro site through Streamate, you can also offer them a percentage off your private or exclusive shows while they're a member of your site.
Global Rankings
Steamate's current global ranking according to Alexa is 10,465 and 4,845 in the United States. Not as good traffic as some other cam sites out there, but still decent. If you like the idea of private shows as opposed to public shows (like the ones you would do on sites such as Myfreecams), Streamate is one of your best options.
Streamate Video Review
Do you want to compare how Streamate compares to other webcam sites?
Want to see how Streamate compares with other webcam sites. We review each of the major webcam sites. We do a full in-depth comprehensive feature review, as well as listing the payouts, alexa rankings, Us Traffic % and more information helping you make the decision if Streamate is really the best cam site for you.