As a cam model, you have one very important job and that's keeping your fans engaged. Sounds easy, right? WRONG. That said, it's not impossible. If you're looking for ways to keep your fans interested in your shows and what you have to say in general, then this article is for you.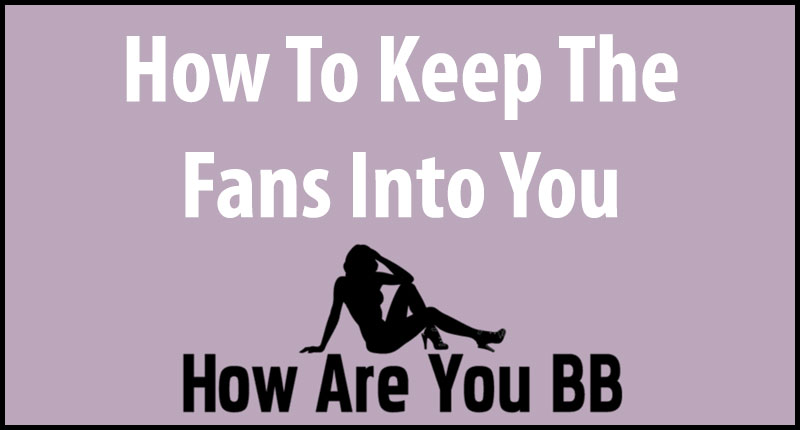 How To Keep Your Fans Truly Interested
​One of the most important things to becoming a successful cam model is knowing how to keep your fans interested. This usually takes some work and you more than likely will have to try out different things before figuring out what works for you.
But once you do, you'll start to notice more people showing up in your cam room, more interactions between you and your fans, and your own workday will go by much faster and be much more enjoyable.​
Look Good & Play Your Role
When potential fans first enter your cam room, they notice your general appearance. Making sure you have a look that's appealing to the types of guys you want to draw in is very important.
If you're into dominating men, you probably don't want to be dressed like a schoolgirl, sitting there giggling and teasing. Give off the vibe that you're trying to bring in. The second thing that they'll most likely notice is your cam room in general.
Have it set up to match whatever it is that you're into and the kinds of shows that you do. Guys are more likely to be interested in your shows and feel more attached to you if the entire environment that they're watching you in is set up in a way that makes them feel like they're really there.
Communicate
Simply chatting and genuinely looking interested in what others are saying to you is incredibly important. If you're just sitting there in silence looking bored, your fans are gonna get bored too.
But if you're engaging in conversation, even if it's just with yourself, they're more likely to want to stick around and hear you out. Members who chat with you are sometimes just as good as paying members.
Go Free
Your workday will fly by when there are people to chat with in between shows. So make sure you interact with any member who's trying to chat with you.
Plus, just because they don't have money today, doesn't mean they won't be back with some in the future. If you write them off right away, they may never be back.
Move Around
Don't just sit there! Get up and move around! A fairly common mistake that new cam models make is not teasing. Teasing shouldn't make you feel like you're giving too much away for free. Instead think of it as marketing.
Every second that you're on cam, you're marketing yourself. Are you more likely to watch the kitten in the pet store that's sleeping or the one that's running around playing?
Even if you need a break and are just hanging out or relaxing, you can still move around a little bit to make sure you don't look bored or put out.
Stay Focused
It's also important to actually focus on your chat room. If you're constantly on your phone or checking other websites, it's gonna be obvious. Your fans want your attention. They don't want to watch a cam model who isn't even interested in what she's doing or what they have to say.
That'll just make them feel like you don't have time for them or won't be willing to listen to them when they try to explain what they want to see in a show. Little things come up from time to time that you have to check, just make sure you don't spend too much time on them.
If your room is dead and you decide to use that time to fill out raffle tickets or something, still make sure you're looking up at your chat frequently and interacting with new members who come in or anyone who tries chatting with you.
Last Tip
The final piece of advice for keeping your fans interested in your cam shows is to switch things up a bit. Don't always do the exact same show over and over again. If you work on Streamate, maybe you're having a day where you just focus on gold shows.
If you make every gold show exactly the same, you won't get any repeat customers. Instead, switch your topic every show and try to do something a little different.
Maybe start with a show focused on a blow job, then a fingering show, then a show with different toys. Or if you want to do everything in each show, switch up the order in which you do things to make the show seem a little different.
Diversity is good and will lead to customers wanting to watch all of your shows since they know they'll get a unique experience each time.
Conclusion
Well, that wraps things up. If you're still unsure what to do, please reach out to me for more information. I'll do my best to assist wherever possible. Good luck and keep the fans entertained!