Cam girls often take on many other jobs as alternative income streams. One of those jobs is a phone sex operator. Is this common? You better believe it! In fact, some models are actually more successful as phone sex operators than they are streaming live. If you're interested in chatting with consumers to make some cold hard cash fast, then keep reading. I've covered all the ins and outs of this below. Oh, full disclosure, I too am earning good money weekly from calls with consumers.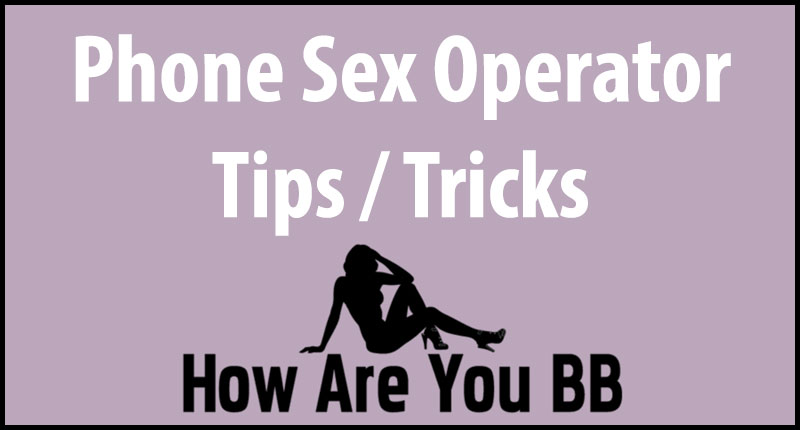 How To Become A Phone Sex Operator
Anyone who's interested in making money should be interested in becoming a phone sex operator. These are the people that you call when you're in the mood for some live, one on one action.
The real draw of it for most people is that it's only your voice that has to have its game on. It's not like camming where you have to show your entire body to the audience.
It's all about what you say and how you say it. It can take some of the worries out of ending up naked online forever and you don't even have to get dressed (or undressed) for it.
Phone Sex Operator Jobs: What You Need To Get Started
You really don't need a whole lot to get yourself started in the phone sex world. In fact, you don't even need a certain set of genitals. Phone sex is open to men, women, and everything in between. The only things you'll need are identification and a phone, that's it.
You need an ID to prove your age before you can start talking to people. There isn't a single company out there that wants to get in trouble for having underage models on their phone lines. It has to be government-issued and it has to have your birth date and a picture on it.
Once you choose the company that's right for you, it will be kept on file with them. Other than that, you really just need a good reception for your phone. If you don't get great service indoors, then there are a few different signal boosters out there that you can try.
You want your calls to be crystal clear and you never want them to drop out. Getting all of that squared away is your first step.
How Much Money You Can Make
There's really no one answer to how much money you can pull in from being a phone sex operator. There are many different types of phone sex to be had and how much your chosen company is going to pay you for them.
The first way to make money is simply by talking. This is where you're usually going to be making the most money. Talking on the phone is going to make you money by the minute.
The longer you talk, the more you make. It doesn't really matter what you're talking about. If someone is on the line with you, you're making money.
The next form of income comes from texting. I know what you're thinking, how can it be more lucrative than posting as a model on Reddit, but I promise you it most definitely is! More and more phone sex companies are offering texting options now. They're the easiest thing to do, but they're also the least lucrative. You're only getting paid by the message here.
If you're talking to someone on and off for several hours, but only sending a few messages then you're not going to be making enough money to make it worth your while. Most women who do this are only doing it when they're not camming or talking on the phone and not as a primary source of income.
Finally, We Get To Talk About Subscriptions…
These are a great way to make money with your phone. There are lots of different services that you can get involved with. People pay you a monthly subscription fee and you give them photos or videos in return.
You can do it at your own pace, but the more you send out, the more subscribers you can get. It's a great option because you can't have a bad day. You know how much money you can expect and all you have to do is keep up your end of the bargain.
How To Start
The steps to getting yourself going here are pretty much always the same. You can sign up for a hundred different platforms or you can sign up for one. The steps you have to take to get going are going to be the same.
Choose a name – Your first order of business is to choose your name. You don't want to use your real name and you don't want to use something that sounds like a screen name. Just think about it from the callers' perspective.
They're not going to want to call someone that they have to address as BootyBl4tsr30569. It's not sexy at all. What you want to do is think in the way of stripper names. Something like Susie, Amber, or Vixen is going to be much easier for them to swallow.
ID and phone – Now that you have your name chosen, it's time to work on your ID and your phone. Create an account on the site of your choice and upload your identification.
It's usually going to take a few days for you to get approved from here. Once that's done and you know your phone is up to the challenge, it's time to move on.
Create a profile – Now that you're on the site, you want to create your profile. This is where you want to put in a lot of effort. Men and women are going to be choosing to pay you based on your profile. It has to be good and it has to be alluring.
Make sure you let them know everything that you're willing to do. Give them a reason to call you instead of the other girls that they see. Make it inviting and upload a sexy photo to go along with it. It's the first thing people see and you want it to make an impression.
I also encourage you to share the news of these services with your fan club if you have one. If you don't have one, then you should start one immediately! I know more things to do…
Start playing – After that, you're off and running. Now it's just a matter of actually having the phone sex that you've signed up to provide. It's' going to be awkward and embarrassing at first, but just stick with it.
Having phone sex with a total stranger is nothing like having phone sex with a boyfriend or girlfriend. It's not intimate and it's not for your enjoyment. It's a job for you and what the buyer wants is all that matters. Follow their cues and you'll be well on your way.
Phone Sexting Companies & Jobs
What about phone sexting? Is this an option as well? You bet your ass it's an option! There are TONS of phone sexting companies out there that will help you learn and then eventually earn. You need to know that it's in their best interest to profit here as well.
Conclusion: Make Money As A Phone Sex Operator
See, getting started in the phone sex world is pretty easy. Perhaps even too easy. However, it's one thing that you should definitely think about doing sooner rather than later. You can expect to make thousands of dollars if you're a dirty talking pro with an attractive voice. Don't waste your talent, go for it!