This article is really simple. It explains how to make money masturbating online. Yes, I'm talking about lots of money – potentially! Find out why and how. This article is written by a cam girl for cam models like you. 
Selling masturbation videos online is often dismissed as a futile endeavor by many, but the truth is that success in this niche largely depends on how one approaches it rather than the inherent lack of profitability.
Let me assure you that selling masturbation videos can be an incredibly lucrative venture with immense potential for earning a substantial income. The key lies in understanding the strategies that can set you apart from the competition.
In the realm of adult content creation, whether it involves sharing explicit photos, buttock snapshots, foot images, or any other form of adult-oriented media, I always emphasize the importance of establishing a unique personal brand.
In a world where everything seems to have been exposed and made readily accessible, the ability to differentiate oneself becomes paramount. Commencing a career as an adult content creator may appear daunting, especially when you consider that your potential customers have likely encountered a vast array of explicit material. However, what truly matters is that they have not encountered you, and this exclusivity is precisely what will generate considerable revenue.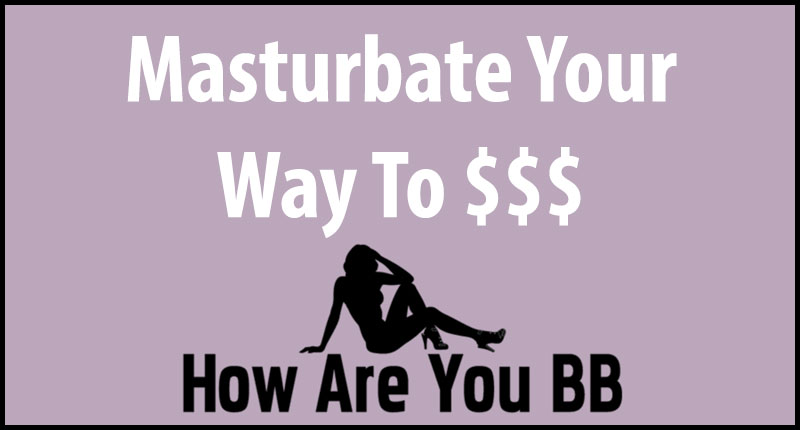 Here's How To Make Money Masturbating Online
With that in mind, I will guide you through the process of selling masturbation videos online while also offering a range of invaluable tips and tricks to create an enticing experience for both yourself and your clientele.
Method #1. Register with Multiple Adult Platforms
As a budding adult content seller, your initial step should involve identifying reputable adult platforms where you can showcase your content.
As a beginner, it is advisable to avoid oversaturated platforms teeming with renowned influencers and adult performers, as this may diminish your chances of success. While some individuals argue that joining numerous sites increases your earning potential, based on my personal experience, effective advertising is the key.
Achieving this does not necessarily require juggling multiple platforms, which can be overwhelming and frustrating in the initial stages. Initially, your earnings may be modest until you build a substantial audience. However, with time, your revenue will grow, and it is unnecessary to be overly greedy from the outset. Opting for quality over quantity consistently yields better long-term results.
I closely follow numerous accomplished adult content creators on social media, and many of them maintain loyalty to one or two platforms. Their earnings stem from devoted followers who seek out their presence on these specific platforms rather than the other way around.
To assist you in getting started, here are a few of my preferred adult platforms for selling masturbation videos:
Just For Fans
JustForFans is akin to OnlyFans and enables you to sell a wide range of content, including videos, fan club subscriptions, sexting services, and custom merchandise. The platform imposes minimal restrictions on the type of content you can offer, making it suitable for various niches, including fetishes, BDSM, and explicit pornography.
Joining JustForFans is free, and they provide an 80% commission on your earnings. If you're seeking alternatives to OnlyFans, this platform is definitely worth considering.
ManyVids
While ManyVids may have a considerable number of creators, it remains a favorable platform for uploading masturbation videos. The site boasts a streamlined and user-friendly interface, catering to viewers and performers across all genders and sexual orientations.
ManyVids allows content creators to sell videos, photos, and merchandise and even offer paid memberships, texting services, phone calls, and crowdfunding campaigns. It offers diverse revenue streams beyond the sale of masturbation videos. Joining the platform is free, and creators receive an 80% commission on their earnings.
Pocket Stars
Introducing Pocket Stars, a user-friendly and recently launched fan site designed specifically for adult content creators. This platform provides a seamless experience, allowing you to effortlessly upload and sell various forms of adult content, such as photos, videos, and albums, utilizing a subscription-based model.
Joining Pocket Stars is free, and as a content seller, you can expect to receive an impressive 80% commission on all your earnings. With its straightforward interface and commitment to supporting creators, Pocket Stars presents an excellent opportunity to showcase and monetize your adult content.
By selecting the right platforms and employing effective marketing techniques, you can unlock the potential for substantial profits in the realm of selling masturbation videos online. Remember, success lies not in conforming to existing trends but in carving out your own unique presence in this thriving industry.
Method #2. Promote Your Content on Social Media
As I mentioned before, many successful adult creators stick to one or two adult platforms where their loyal followers can find them. That's why social media is crucial if you're considering becoming an adult creator because it's challenging to succeed without a way to advertise your content.
The top social media platforms for promoting your adult content are Twitter and Snapchat. Twitter attracts a more mature audience, although you can still find a younger audience there. On the other hand, Snapchat is popular among a younger crowd. Before creating a social media account for your business, think about the audience you want to target and focus on one of these platforms (or both if you can handle them).
Method #3. Engage with Potential Buyers
Engaging with potential buyers is the key to selling your masturbation videos or any adult content using social media. By interacting with people in your niche or joining conversations related to similar topics, you can effectively promote your products.
However, avoid spamming your online marketplace link everywhere, especially through direct messages. This approach can be a major turn-off for people and may lead to them unfollowing you. It's also not great for your business, as you may attract bot accounts that don't provide much value other than retweeting your tweets to other bots.
Instead, when you notice someone engaging with your content, politely reach out to them through direct messages or comment that you sell masturbation videos, offering to share your link if they're interested in viewing your content.
Method #4. Broadcast Yourself on Cam Sites
One of the most popular ways to earn money from amateur porn is by broadcasting live using your webcam. It's like setting up your own channel on a cam site and regularly streaming from the comfort of your own room.
Aside from receiving tips and tributes during your live broadcasts, this also gives you a chance to promote your paid masturbation videos to your audience. Take the time to interact with your viewers as you perform, as this helps you build relationships with your customers and even gain regular subscribers who will purchase your paid content month after month.
You can also upload clips from your webcam sessions to other online marketplaces you're signed up to, in addition to sharing short clips on your social media platforms. This allows your followers to see more of your content and potentially attract new customers.
Method #5. Create High-Quality Videos
I'll be honest with you. Nowadays, a random masturbation clip won't cut it. People who buy your content will appreciate it more if you put effort into your work.
I follow many people who have made a lot of money from adult content just by advertising for free on social media. But I see a big difference in their content compared to someone who isn't making any money at all.
When I research adult platforms for an article, I come across many clips that aren't doing well. I immediately noticed how these videos can be greatly improved with a little effort.
So, before you think about selling masturbation videos for a living, remember that you need to put effort into your content for it to be successful.
Find your best angles, watch YouTube videos for tips on shooting high-quality videos, and maybe even take an online editing course to enhance your content.
Don't be lazy; it's time to work.
Once the money starts coming in, don't stop there. Consider investing in decent equipment like a good camera, microphone, lighting, props to make your videos more interesting, and the ability to change your background.
To understand what I'm talking about, check out popular sites like ManyVids and see what the top-earning creators are doing compared to those who don't do well.
You'll notice a big difference in content quality, with top-earning creators putting a lot of effort into their work while low-earning creators often have blurry videos, poor sound, and unflattering angles.
I understand that everyone starts somewhere, but you can learn many things, like shooting quality videos for free on YouTube. So put in the effort instead of diving in unprepared.
Method #6. Be Creative
This relates to what I mentioned earlier, but I want to rant quickly about content creators who constantly complain and try to pressure their followers into subscribing to their paid content without offering much in return.
If you want your masturbation videos to sell well, you need to do something different from other creators who also sell similar content. Make your videos interesting to watch.
So, it's a good idea to seek inspiration from successful creators in this niche but avoid copying their work. Instead, add your own twist to your content. Your followers or subscribers want to see what you're doing and how you're doing it, not what everyone else is doing.
Method #7. Choose a Theme for Each Video
A great way to be creative with your masturbation videos is to pick a theme for each video you create.
For instance, you could have a seasonal theme, like masturbating surrounded by candy for Halloween, on a dinner table for Thanksgiving, or wearing Christmas clothes.
You can also have a birthday theme where you masturbate with a cake smeared all over you. This can be a special custom video you send to a paying subscriber for their birthday.
As I mentioned in my "How to Sell Nudes On Snapchat" article, you can also try a cooking theme or an outdoor theme. You can even explore more intense fetishes, like pretending to be kidnapped in the back of a van while blindfolded and gagged (it's a niche, but trust me, there's a market for it).