As with any job, there is a code of conduct that should be followed as a cam model. Even though you're your own boss and can technically run your business however you want, it's still important to hold yourself to certain standards that the cam model community finds acceptable. This will give you a good reputation among other cam models and your fans. Even if you plan on remaining a solo model, having a good relationship with the cam model community is incredibly important. You don't want your name attached to articles or comments on cam model forums that are negative. Besides the possibility of your fans reading these comments and getting a bad taste in their mouth for you, it can cause unnecessary drama that no one wants to deal with. And you're screwing yourself over if you ever do decide you want to broaden your horizons and try to work with other girls.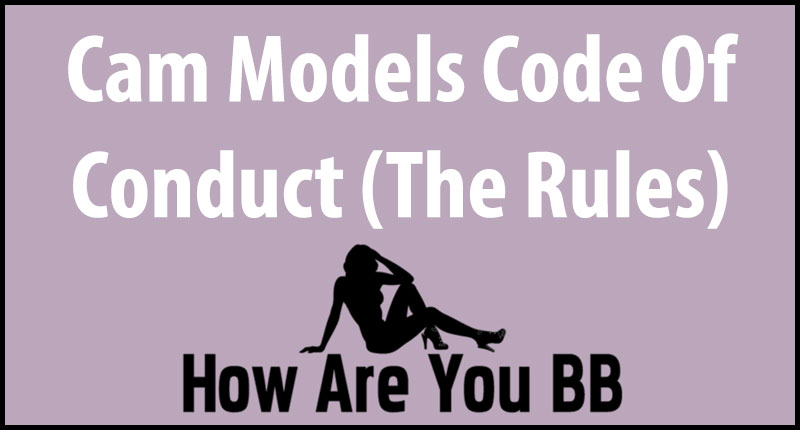 Webcam Model Code of Conduct
The first thing that you should never do is bash another working webcam model. Besides being incredibly rude, it's also hurtful and considered bullying. And aside from that, it makes you look very insecure about yourself and your own abilities as a cam model. If you have a personal issue with another model, keep it between the two of you. Even if they're antagonizing you, be the bigger person. Either ignore them, block them, or reply via DM instead of in public on social media or in your web cam room. And be mature about your responses.
Simply explain the issue you have with them, why you have it, and move on. If they can't seem to understand it, that's their own problem. Don't worry yourself over petty drama. In the long run, they're just gonna make themselves look like an immature baby, and you're gonna come out the winner.
Sometimes it may not be a personal issue, you just might not like another cam model's style or something that they do. Remember that they're running their own business just like you are. Let them do it the way they want. It's not your position to critique their way of doing things just because it's not how you do things. Mind your own business and focus on ways to improve your own shows.
Dealing With Fans
So that's a little bit about how you should interact with other cam models, but let's go into who you'll be dealing with on a daily basis: your fans. The way you treat your fans can really make or break you as a cam model. If you want respect from them, you need to give them respect as well. I'm not saying you 100% of the time have to be nice to everyone. Let's face it, you're gonna encounter trolls along the way.
But the way you deal with them is what's important. I know it can sometimes be hard to simply block someone without telling them off first, but you should remember that this is what they want. They want to rile you up and get a reaction from you. If you do feel the need to say something to them before blocking them, just keep your cool. Keep in mind that you're live on cam.
Everything you do maybe being recorded by someone. If you freak out on someone and that video gets posted on the internet later, it could be embarrassing or make you look bad. It may have been better if you kept your composure and thought about your response before freaking out.
No Begging For Anything
I see a lot of cam models beg for tips all day long while on cam. This is not the way you should be doing things. If it's ok for you to beg, then who's to say your fans shouldn't be beggars too. Instead of begging for tips, occasionally let your fans know about things you're selling or special promotions you're currently running.
If you're genuinely enjoying your time on cam and actively interacting with your fans, they'll be more inclined to purchase stuff from you than if you're just constantly begging. When they see you begging for tips, it makes them wonder why you're so desperate to make a sale.
Maybe they think your quality of content will suck or that you're trying to rip them off. Although it can sometimes be tough, you just need to be patient and hang out like usual instead of constantly begging for tips.
If you can follow these basic guidelines, you're definitely on the road to success. Remember that everything you do just might be being recorded, so compose yourself in a way that you want to be remembered by.