As a cam model,  you've got a few really important roles and duties. Selling cam shows and getting consumers to consume your content is for sure the most important. However, so many models seem to have a tough time selling. Many of them just don't know where to sell. In fact, many of them do not know where to start. That ends today! After reading this article, you should be able to confidently sell more private shows, premium media, and even tangible goods. You just need to know where to go. Time to learn…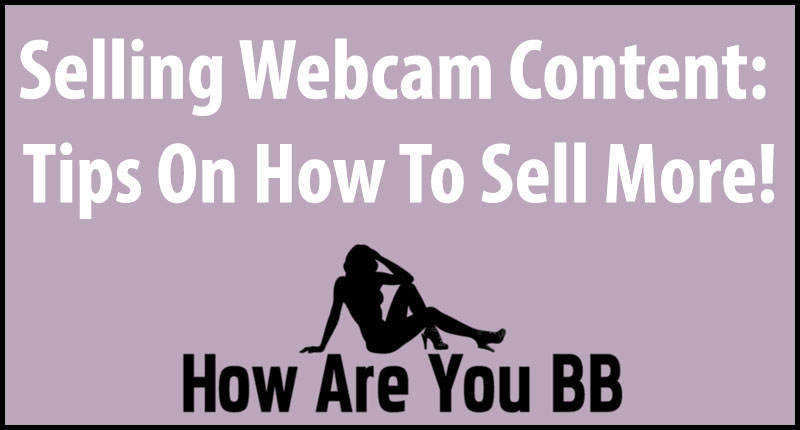 Where To Sell Your Webcam Content
Before we even get started, I'd like to congratulate you on mastering the art of filming your first clip. In fact, take a second to just take that hand, pat yourself on the back and congratulate yourself for being a master of the universe.
Now that the hard part is over of filming and editing your clip, it's time to answer the million-dollar question.
Where the F*&!$ Do I sell them?
There are going to be a lot of sites that will pop up in your peripherals, and it can be hard to figure out which site to choose. My best advice to you? Try them all out. Worst case, you don't do well on all the sites, but you find one that works and that you like using.
Best case? You sell a million clips, become an overnight sensation, and can go sailing through Ibiza while collecting your hundreds of thousands in passive income. Now, if you're not trying to sell media at Camsoda, then you're failing as a model – simple as that.
They're Not Equals
Keep in mind while reading this that not all clip sites are created equal. Should I say it again? Not. All. Clip sites. Are. Created. Equal. (Just wanted to make sure that you really understand this before you upload all your clips and wonder why they aren't selling.)
There will be times where one of your clips is selling phenomenally but another one tanks. It doesn't mean it's a bad clip. It just means that sites traffic leans towards one type of style over another.
(Side Note: Please make sure to always read everything including the contracts and the TOS before signing up to any website. It is SO important to protect yourself and your content.)
Selling Clips
Before we get into the nitty-gritty, it's important to note that you can and should sell your clips while you're online. I highly recommend this because it's easy and it's extra money. If you decide to sell this way, you're going to need a good hosting site. Right out of the gate, I'm going to let you know that most video hosting sites are not adult-friendly, so always make sure you're reading the Terms of Service before signing up.
ALWAYS.
A free hosting site for your videos is ProjectMaenad. It is in beta, but works wonderfully and is run by a former cam model. You can create links to send out clips, make them password-protected, limited/number of downloads, and you can also create a public profile page for yourself. It's easy to use, and support is very helpful and efficient.
At the moment, ProjectMaenad is not able to process payments, so if you use this site make sure you have an alternate payment option available. It's also important to note that this site does not have its own traffic, so if you're using it to sell videos you will have to market, market, market.
As far as actual "stores" you can sell your videos in, I'm going to be focusing on the two main sites that are well known, have a great reputation, and have the ability to make you a nice chunk of passive income if you work it right.
The two sites that, in my opinion, are the most well known are: Manyvids.com and Clips4Sale
Manyvids
Let's start with Manyvids. That's the site that I use, and I love it. It's completely free to sign up and is so user-friendly. Literally, all you need to do is go to their site and there will be a button that asks you if you'd like to sign up to be "An MV Girl." (The answer is YESSS! Do it!)
One of the coolest aspects of ManyVids is that they run a continuous contest for the top 20 MV Girls every month. Basically, if you're in the top 20 of sales, then you get a bonus. First place takes home $1200! They also run special contests for Valentine's Day, etc. that are a fun way to get guys voting for you and promote your store at the same time.
Manyvids is definitely more of a social platform than some of the other clip sites that you will run into. In my experience, the more that you interact with the members and the other models, the better you will do. That means such things as; liking profiles, leaving comments, messaging back and forth with the guys. Treat it like social media and start building those bridges, baby.
Skype, Snapchat & Tangibles
Along with uploading and selling videos, you can also sell Skype Shows, Snapchat/KIK, Custom Videos, and create an entire storefront of tangible goods. (Bras, Panties, "pay for my dinner".. you get the idea.)
The Payout percentage is 60/40, with you taking home the 60%, and they payout twice a month on the 1st and the 16th.
Clips4Sales
Now onto Clips4Sale. I don't have much personal experience with Clips4sale, so for research purposes as well as keeping my honor in tact while I dish out this advice, I'm going to sign up for the site right now and we can learn together.
It seems, from other model experiences, that this site does extremely well with fetish clips. If you take a look at the studios and what they offer, there is everything from sneezing clips to brushing your hair. (Thank God we all have a reason to keep the camera running now. Sick doesn't mean NO pay! Holla'!)
Clips4Sale differs from Manyvids, in the fact that it gives you the ability to upload clips in multiple ways which maximizes the number of views that it will receive. You can have a Clip Store, DVD Store, Image Store, and a Membership Site all under the same name. In order to start uploading you will need to have 10 clips, and for images, you will need to have 5 zip files with 20 images minimum in each.
One cool feature is that they have an email list, where you can add customers who would like to be on it and blast them with mass emails. Seems like this would be a great way to get independent shows, custom vids or let them know about upcoming things and generate sales.
The Payout Percentage is 60/40 or 75/25 depending on what type of store it is, and payouts are sent on the 7th of each month for the month prior. Both ManyVids and Clips4Sale have their own traffic, which is a HUGE plus. Add that to the traffic you can bring if you market it correctly across your social media and you'll be sailing in Ibiza in no time. (Ibiza trip not guaranteed, results may vary.) Are you interested in selling more tangible goods? like panties etc? That's always a great additional revenue stream.