If you've spent any time on the internet at all, you've stumbled across the specialized discussion boards known as Reddit. Reddit started in 2005 and it's a place where registered users can submit content such as links, images, and text which is then voted on by other members. You can find just about anything on Reddit, and posts are organized by subject into "sub-Reddits" with topics from current events to science to movies to fitness to, yep, you guessed it, sex. Today, I'm covering EVERYTHING you need to know about using Reddit in order to grow your brand as a cam model.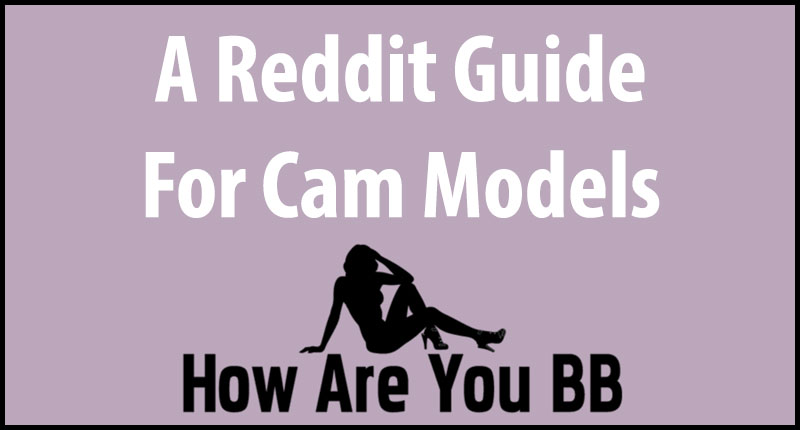 Official Reddit Guide For Cam Models
Reddit has over 330 million active monthly members, which means there are a lot of eyes looking at whatever is posted on the seventh most-visited site on the internet worldwide. If you're a cam girl, that means you could actually use a site like Reddit to your advantage.
Maybe you're saying, "But, how?" Well, let me first tell you that on Reddit, like just about everywhere else, sex is big. There are dozens of subreddits dedicated to sex and sexual topics, including r/CamSluts, a subreddit dedicated to cam girls, webcam girls, and amateurs who want to show off what they can do on video.
With 64% of Reddit users in the age demographics of 18-24 and over 40 million searches done daily on Reddit, your chances of exposure are pretty damn good, especially when you're in a career that requires your name be "out there" like cam work does. If you're a cam girl, here is how you can use Reddit to your advantage by becoming a Reddit cam girl.
The Cam Girl Community on Reddit
Cam work is competitive, especially now that the waters are so full of women (and men) who want to try their hands at making some bank online. What is great about the camming subreddits is that there are always people there that have done what you're looking to do, have experience in all avenues of cam work, and are more than willing to be helpful when you've got any questions.
As much as you talk to people online as a cam worker, you're pretty much in a career where you're alone. There are no business meetings, no constructive criticism from bosses, and no real organization that you are working with. Plus, many people still stupidly look down on sex work of any type and sorry to say it, but cam work is considered sex work.
That's a great reason to give the subreddits a try. You can connect with other cam workers and feel less alone and not at all judged like your friends may have a tendency to do. I know that has been one of the biggest benefits of Reddit for myself as a cam worker.
Getting Your Name Out There
Another positive of Reddit for cam workers is that you can post links to your work. As a cam girl, you're probably using a site like Chaturbate or Cam Soda for work. Those are great sites, but you rely on users of those sites to see you and get interested in you.
If you're new to camming, this can take some time. And in the cam world, time equals money. Reddit, with allowing you to post links to your videos, allows you to show what you do to people who may not be members of those sites yet.
This means more exposure and hopefully more paying customers who want to see more of what you do. The more interest you can get, the better!
The added bonus of becoming a Reddit cam girl is that they allow couples posts if you're into that, and hardcore content is welcome. The site and the subreddits are moderated but don't let that scare you, it is mostly to ensure that things run smoothly and there is no bullying going on and that everyone involved is of legal age.
Oh, and if those that watch your videos are really turned on, they can award you with coins. Now, as of today, they aren't real currency, but instead something that will be used for stuff that Reddit will have. But, hey, you never know what those things will be and if they might end up being real money in the future.
Being An Adult Services Seller On Reddit
If you decide that you want to do more than just share your video links to other cam sites, you may want to consider being an adult services seller on Reddit.
This can be something you decide to do if you want to leave those other sites, or in addition to your cam work. However, you decide to use it, selling adult services on Reddit is great for cam girls.
Now, here is a little warning for you before you decide to post anything sexual on Reddit: If you're looking to remain completely anonymous, Reddit isn't going to be for you.
If you still want to use Reddit for your cam work, you should definitely not post in subreddits from your city or anything local; posts are completely public, and you could absolutely be traceable.
If you're OK with all of this and still want to use Reddit for your cam business, you will want to familiarize yourself with the adult services selling subreddits that are available. You will more than likely have to become a verified user, which means posting a bit of free content on Reddit, but its more than worth it in the end.
The trick to this is to post pics or gifs of yourself on subreddits that fit with what you're about. If you're a girl with huge boobs, find subreddits for that. Or, if you're a geeky girl, look for those subreddits. There are literally kinks and niches for everyone on Reddit.
Oh, and don't try to charge for this content. Don't mention prices, and don't mention you're a seller in these non-selling subreddits. Only when a member contacts you about your free content would it be wise to let them know you'll chat…for a fee.
Many of these users won't take the bait and they aren't going to pay you. Don't let that get you down, though. All of this just works towards getting your account verified, which means you can move to the adult services selling subreddits.
Once you're at that stage, really read the rules for whatever subreddit you're looking at joining. Each subreddit has its own rules and there is no excuse for being declined or booted because you didn't follow the rules.
If you're serious and want to make money on Reddit as a cam girl, you have to follow their rules, otherwise, you'll be banned, which sucks.
Make Your Own Subreddit
As your popularity increases and you've used Reddit for a bit, you have the option of creating a subreddit dedicated completely to you.
This is your Wiki and you should include everything about you as a cam worker for your fans and paying customers, including your cam sites, your kinks and interests, how to pay you for content, what you might sell besides shows, and anything else that has to do with your cam work.
Remember, though, this will take time. Using Reddit requires a little advance work and planning, you can't just jump on and become a Reddit cam girl star within minutes.
Final Thoughts: Using Reddit To Become A Successful Cam Girl Takes Work
Reddit is a great place to grow your cam career and make some extra money, especially if you are using the right subreddits. Unfortunately, it can't be done instantaneously, but instead requires you to do some work with understanding the rules of Reddit and following them over a period of time.
However, once you've done that, Reddit, with its huge membership base, gets you out there and helps you to grow your cam girl business like no other way.