This article is for the cam model that wants to have her very own adult website. Look, it's not for everyone. Some people don't want to be bothered with it. Others can't live without it. In this post today, I cover everything I know about creating an adult site and what to do to make it happen.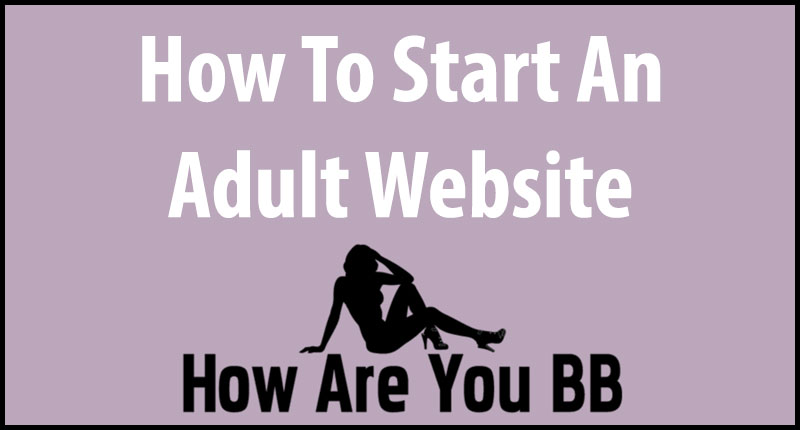 Tips On How To Start An Adult Site
We all know that adult websites attract a massive amount of visitors. If you're interested in creating your own adult website, you need to consider a few important factors beyond the usual requirements of starting a new website. These considerations include finding a reliable web hosting provider, adhering to guidelines for adult content, and setting up a secure payment system.
Check out these helpful tips on how to successfully launch an adult entertainment website:
Determine Your Website's Content
Creating an adult entertainment website is relatively straightforward, but keep in mind that millions of other sites are competing for the same audience. It's crucial to develop a solid plan in advance. Will your site focus on a specific niche or cater to a wider range of interests?
Since you won't be the only one doing either, think of unique ways to set your site apart. Search engine optimization (SEO) is also vital for improving your site's visibility. Even though SEO might seem like something only big corporations need to worry about, Google's algorithms impact the ranking of every website. Therefore, prioritize SEO in your content and titles.
Try to provide original content whenever possible, as quality is more important than quantity.
Design a User-Friendly Website for Better Ranking
Enhancing your site's ranking is best achieved through an excellent user experience (UX). The more user-friendly your site is, the higher it will rank. A user-friendly website benefits your ranking and generates revenue by converting visitors into loyal paying customers who will stick around.
Create simple adult sites with a clean and responsive web design or more complex porn websites with advanced functionalities such as e-commerce, depending on your needs.
Choose the Best Web Hosting Provider
Select a reliable web hosting package. If you plan to include videos on your site, ensure that your hosting plan offers sufficient storage and data transfer capabilities. Most popular providers offer plans with unlimited storage and transfer options. It's important to have a reliable service, especially if you expect a sudden increase in website traffic.
Set Up a Payment System
Establish a payment system for your adult website. If you intend to charge for access to your content, you need to provide users with a convenient way to pay. Many adult sites offer access options per hour, monthly, or yearly, while others charge for individual video downloads.
To accept credit cards, you must create an online merchant account with a provider that accepts adult content sales. Be aware that a few merchant service providers may not take adult content sales, so be prepared to search for one that does, as their policies can change frequently. Popular mainstream merchant service providers include Authorize.net, Merchant Express, Charge.com, and GoEmerchant.com. For a simpler approach, you can also use PayPal to accept credit card payments.
In short, you can use all the same payment systems you'd use to sell feet pics and fetish pics.
Follow International Guidelines for Adult Content
Adhere to relevant guidelines for adult-oriented web content. Since the internet is global, the distribution of pornography is governed by the laws of each country and state. In the United States, no laws specifically regulate the distribution of adult content online exist.
As a general practice, adult websites often include a warning on their home page to prevent minors and those uninterested in adult content from accessing the site. Take a look at similar websites to get an idea of common disclaimers.
Creating an adult website may not be as easy as it sounds, but the hard work will pay off once you generate revenue. Follow these tips, always keep your target audience in mind, and you'll undoubtedly have an excellent website.
Final Thoughts
In conclusion, starting an adult entertainment website requires careful consideration and planning. While it may seem like a lucrative venture due to the high traffic generated by adult websites, it's essential to approach it professionally and adhere to relevant guidelines.