If you're just getting started with camming, then you've got a little bit of homework to do. Jumping into a cam show without knowing the common acronyms and lingo might leave you feeling out in "left field." Truth be told, there are lots of different acronyms out there that are just waiting to confuse you. If you know them, then they're a great way for people "in the know" to communicate quickly and effectively.
If you're new to the whole camming or adult world, they can just be a source of frustration for you. No one wants to use the wrong one when they're trying to say or sell something. That's why it's always best to have a list handy and ready at your convenience to let you know exactly what you're trying to say and how to say it.
It will also make it a lot easier for you to follow along with other people. This list of acronyms that I've shared below are what I believe to be the most common and important to know. If you have any questions, please let me know!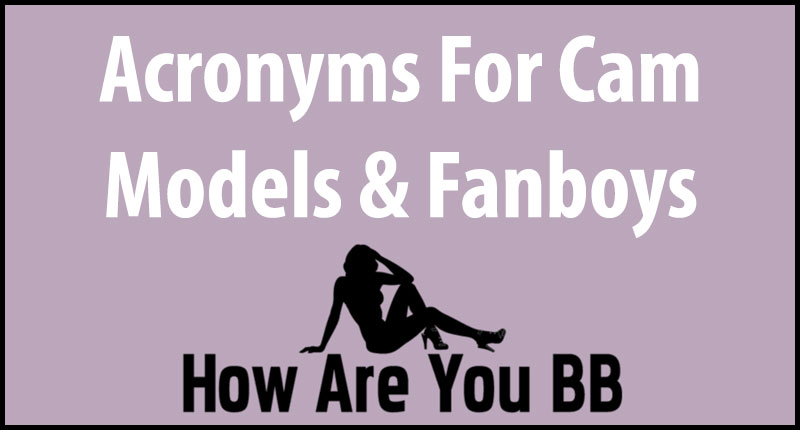 Common Acronyms For Cam Models To Know
First up are the most common acronyms that you can run into. These aren't necessarily adult-oriented. You'll see them all over the place, including mainstream social media. They can still be brought into the adult world to get a point across.
If you see these anywhere else, you'll be able to figure out what the people are saying. You'll probably already know a lot of them, but it never hurts to brush up. You never know when you've always thought that something meant one thing only to learn that it meant something totally different.
APAC – Adult Performer Advocacy Committee
ASMR – Autonomous Sensory Meridian Response
AV – Age Verification
BAE – Before Anyone Else
BB – Baby
BTC – Bitcoin
CMS – Content Management System (Site Management)
DM – Direct Message
DSLR – Digital Single-Lens Reflex Camera
DMCA – Digital Millennium Copyright Act
FOSTA – Fight Online Sex Trafficking Act
FSC – Free Speech Coalition
GFY – GoFuckYourself
GILF – Granny I'd Like To Fuck
HD – High Definition
IG – Instagram
MILF – Mom I'd Like To Fuck
NSFW – Not Safe For Work
OBS – Open Broadcaster Software
PM – Private Messages
POV – Point of View
SESTA – Stop Enabling Sex-Trafficking Act
TS – Transgender
VPN – Virtual Private Network
VR – Virtual Reality
WL – White Label
WP – WordPress
Site Acronyms
While you're out trying to find a good site to start your camming journey, you're going to run into a lot of acronyms. These are just shortened versions of the site names for the most part. If someone brings one up to you, you're probably not going to know what they're talking about.
It's just going to take extra time for you to try and figure it all out when you could just be checking out the site for yourself. Once you get going, though, other people are going to expect you to know them.
ACF – Amber Cutie Forum
AVN – Adult Video News
AW – Adult Work
BC – BongaCams
CS – CamSoda (Read this page)
C4S – Clips4Sale
CB – Chaturbate
CMD – CamModelDirectory
CWH – CamWithHer
ELM – ExtraLunchMoney
FCP – FirstChoice Pay
F4F – Flirt4Free
IWE – iWantEmpire
IWC – iWantClips
JFF – JustForFans
LJ – LiveJasmin
MC – ModelCentro
MDH – MyDirtyHobby
MFC – MyFreeCams
MH – ModelHub
MV – ManyVids
NF – NiteFlirt
OF – OnlyFans
PH – Pornhub
SM – Streamate (Read More)
SW – StripperWeb
WAM – Wet and Messy
XXX – Not really an acronym, just means explicit content
YK – YouKandy
YP – YouPorn
YT – YouTube
Sex Acts Acronyms
There are plenty of acronyms for different sex acts. These are the ones that you should really know. You'll be posting them all over your pages as a cam model.
You'll want to be able to tell people exactly what you can do for them without having to force them to spend too much time reading. You want them to be able to reference your text and know exactly what they can do with you.
ATM – Ass to Mouth
B/G – Boy/Girl Content
B/T – Boy/Tranny Content
BDSM – Bondage & Discipline / Domination & Submission / Sadism & Masochism
BJ – Blowjob
C2C – Cam2Cam
CBT – Cock and Ball Torture
CEI – Cum Eating Instructions
DP – Double Penetration
FJ – Foot Job
GFE – Girlfriend Experience
G/G – Girl/Girl Content
G/T – Girl/Tranny Content
JOE – Jack Off Encouragement
JOI – Jack Off Instructions
SPH – Small Penis Humiliation
General Adult Video Acronyms
Finally, you want to be able to tell the people who you are and what you want to do. Once again, you don't want them to spend too much time reading. You want them in your room with you. You want them buying your shows or giving you tips.
This is how you do it. Tell them all about yourself in as few words as possible. It's the best way to make an impact and ensure that you'll have a steady stream of people coming into your cam room to have a good time with you. These are the terms that you'll probably be throwing around the most and should always make an appearance in your bios.
AW – AdultWork
AWA – Adult Webcam Awards
BBC – Big Black Cock
BBW – Big Beautiful Woman
BWC – Big White Cock
PAWG – Phat Ass White Girl
PSO – Phone Sex Operator
SB – Sugar Baby
SD – Sugar Daddy
SM – Sugar Momma
SW – Sex Work / Sex Worker
Conclusion
If you have any other questions, please reach out ASAP and I'll do my best to shed some more light on these acronyms. Keep checking back to read the homepage to find out what I've published recently. A lot of times I'll update pieces as well as I see fit. So check back regularly for more info!