Mygirlfund Review
Mygirlfund is a website where female models can sell premade videos and pictures, sell custom content, perform webcam shows, and get paid to chat with fans. Below I rate them in several different categories, giving them a score in each category out of 10. Out of 60 possible points, I gave them 56/60, with an average score of 9.33. They lost points for their crappy uploaders, traffic dying down on the site recently, and only offering two forms of cashing out.
How Much Experience Do You Have With The Site?
I've been on Mygirlfund for 4 years.
Features 9/10:
Mygirlfund offers a lot of features to models. You can create a profile page which is fully customizable (but no nudity is allowed), upload pre-recorded videos, record videos directly through the site, upload pictures to both a public or private folder, live chat with guys, do live webcam shows, enter contests that are run by both members and MGF staff, they give you an inbox to chat with guys, there is an escrow system, a public blog, a girls only blog and forum, and an offers page where you can post any deals you're currently running. Most of these features are great and work well, but there are a few flaws in my opinion. The max file size for videos is 1 GB. This means that videos larger than that either need to be broken down into multiple parts, have the quality lowered to reduce the file size, or uploaded to MediaFire (which is one of the only file sharing programs they let you use – Dropbox is no longer allowed). They also only let you upload one video at a time. And when you go to name your video files so you can keep track of them, they have a character limit of only 15 characters. The same goes for photosets. There is a max file size of 3 MB per photo, photos have to be .jpg, and folders also have a character limit of 15. These aren't terrible issues or anything, but they can definitely get frustrating after awhile.
Profits & Traffic 8/10:
The traffic on Mygirlfund used to be really good. It was my number one site for awhile, and I was making thousands of dollars a year on it. I still make decent money on the site, but nothing like I used to. It seems that the traffic just isn't there as much anymore. A lot of guys have moved on to sites like ManyVids where they get better video previews, can purchase tangible goods, and can do cam shows on apps like Skype, and not be confined to the cam software that MGF offers. The main reason that I still stay on the site is because of all the contests they hold. I enter as many as I can… both the ones that members hold and the ones that MGF themselves holds. I've made quite a bit of money from them, so I definitely feel it's worth it. I don't make a lot in selling premade content anymore on the site, but I still get a decent amount of custom video sales.
When you first start off on the site, you keep 65%. For every $5,000 that you make, your percentages goes up 2.5% until you reach the maximum of 90%.
Ease Of Using & Navigating The Site 10/10:
Mygirlfund is incredibly easy to use and navigate. They actually recently made some changes to the layout, but it's still just as easy to use as it ever was. There are picture tabs at the top of every page that you can hover over to view the category. And then some tabs have sub-categories inside of them. It only takes visiting the site a few times to get used to where everything is.
Payments & Cashouts 9/10:
They currently are only offering two forms of cashing out: a mailed check or Payoneer. There is a $10 fee for a mailed check and they generally take 7-10 business days to get to you. There is a $5 fee for Payoneer. You choose when to cash out, and can do so at any time. The payment will say it's from MGF, LLC, so it's pretty discreet.
The My Fund page breaks everything down nicely so you can easily see your current fund amount, recent transactions, how much you've made overall on the site, how much you've made each quarter of each year you've been on the site, escrow orders, and how much you've earned through messages, contributions, contests, and webcam shows.
Privacy Protection & Geo-Blocking 10/10:
Mygirlfund is very strict about protecting the privacy of both the models and the fans on the site. Their number one rule is that you cannot share any personal information with another member of the site, or collect any personal information from anyone. This means no sharing your real name, address, phone number, usernames you use on other sites, links to other sites you're on, social media accounts, or anything that encourages members to find you offsite. If you're caught breaking this rule, you'll get your account immediately banned in most cases and your pay withheld. If you upload pictures anywhere on the site, you can only use www.tinypic.com to host them. They have this rule in place because TinyPic is an anonymous file hosting site. If you don't want to upload all of your content to Mygirlfund, you can use an anonymous file sharing program to send out your content. Dropbox is no longer allowed, but MediaFire is fine.
MGF offers regional blocking on the site. You can block individual US states and territories, Canadian provinces, and entire countries. If you block a certain area, anyone with an IP address from that region will not be able to see your profile. You can also set your profile to private if you want. This will make it so only members of the site who are logged in can view your profile. And it also prevents models who are logged in under their model account from being able to access your profile.
Customer Service & Support 10/10:
The customer service and support team at Mygirlfund is great. I only had an issue with them once when my messages were going into their spam folder, so they took longer than usual to reply. But in that case, I was able to contact them through a DM on Twitter and they found my messages and replied the next day. They're generally very quick to respond to any questions or issues you're having. They're always very knowledgeable and answer everything that you ask.
Overview:
Overall Mygirlfund is a good site for selling content, customs, doing live cam shows, and earning some extra revenue from entering contests. I wouldn't recommend spending too much time setting up your profile and uploading every piece of content you have to the site, but uploading your most popular videos and offering customs is definitely worth the time. Also checking out the Contests page every couple days can pay off too.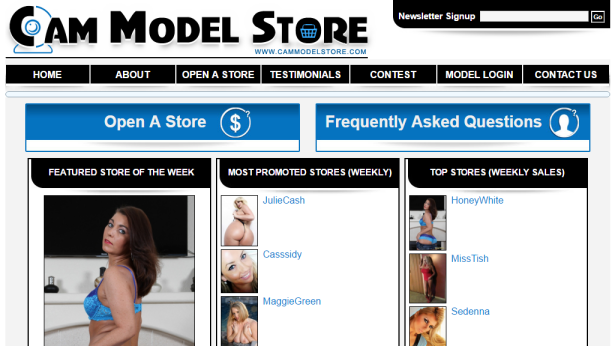 Review of Cam Model Store
Cam Model Store is a site where you can open your own online store to sell adult goodies. Popular items include panties, used toys, videos, Snapchat access, and Skype shows. Below I rate them in several different categories, giving them a score in each category out of 10. Out of 60 possible points, I gave them 53/60, with an average score of 8.83. They lost the majority of their points because they don't offer any form of regional blocking.
How Much Experience Do You Have With The Site?
I've been on Cam Model Store for 7 months.
Features 10/10:
Cam Model Store has so many great features, and they keep rolling out new ones! Before I get into the features, I should mention that there is a one time fee of $149.99 to open a store with them. But with the payout percentage being 80%, you can quickly make that money back. Now on to the features… the main feature is a storefront. The colors and look of your storefront is fully customizable. You choose your own top banner, background image or color, text color, and even link colors. Your storefront will list all of the products you have for sale. They make it easy for your customers to select the item(s) that they want and checkout. For everything that you offer, you set all of your own prices. They do have a minimum of $10 though.
Besides selling items, you can also do cam shows on Cam Model Store. You can incorporate all of the same functions you could on any other cam site: HD video, audio, text chat, and cam2cam. You set all of your own per minute rates for group and exclusive chat. Fans can also send you tips.
They also have an anonymous pay-per-minute phone service. You set your own price per minute for phone calls. They don't offer a texting app, only actual voice phone calls. Your real number will always remain anonymous.
Cam Model Store now has a solution for PayPal! Since PayPal is not adult friendly, they have created an adult pay request feature. This feature allows you to send out a "request for payment" notice to any customer. You just enter a title, the amount you are requesting, and your customers email address. You will be notified as soon as the customer pays.
A newer feature is the top tipper board. If you've earned at least $200 on the site, you can activate your board. This allows you to manually add customers who have purchased from your store to your top tipper board. This feature can be useful if you have competitive fans who want to compete to be your top tipper.
There are a few other features on Cam Model Store. If you want to offer a discount on any of your items, you can easily create promo codes to give fans a percentage off your items. If you want to promote your store, they provide images and linking codes for you to use. You can easily check the number of views each of your products has gotten in the past week, month, or year. And you can also easily check your store sales for the week or month.
Profits & Traffic 9/10:
Cam Model Store has one of the highest payout percentages in the adult market. You keep 80% of everything you bring in on the site. They do very minimal marketing for you, which is one of the reasons why they can pay such a high percentage to their models. You are responsible for posting your store link on social media and drawing in your customers that way. They have a small Twitter account where they post occasional shout-outs, but with only 1,000 followers or so, that doesn't draw in much traffic.
Besides posting your link on social media, there is another way to draw in some traffic to your store. If you check out Cam Model Store's homepage, you'll see that they have 9 different categories, each featuring models. The categories include featured store of the week, weekly most promoted stores, top stores for weekly sales, top cam shows in overall sales, top phone calls in overall sales, recently added store items, latest models who logged in, latest models with a sale, and next model birthdays. Some of these categories are hard to get listed in, but others are easy and will get you more exposure. If you're frequently logging into the site and posting new items for sale, you'll be listed in at least 2 of the categories regularly: last login and recently added store items. Doing this will help get you more exposure and possibly more sales.
If you put in the effort to advertise your store, the profits are unlimited! Some models earn the majority of their income from Cam Model Store.
Ease Of Using & Navigating The Site 9/10:
The model dashboard is a bit cluttered and can be overwhelming when first looking at it. But if you take some time to click every link and read through everything, you'll be navigating the site without any problems in no time. One thing that I do find annoying and possibly confusing for potential customers is that only the latest 20 items that you uploaded are displayed when visiting your storefront. If your customers want to view your other items, they need to either click the individual categories on the left or click on View All Items. Some fans may not realize this and only see your latest 20 items.
Payments & Cashouts 10/10:
On Cam Model Store, you can choose to get paid via check in the mail, direct deposit, Paxum, or Western Union. Direct deposit is only available to models in the United States. Paxum and Western Union are only available to international models. Payments are sent out weekly as long as the minimum payout is reached and you keep 80% of everything you make on the site. There is no fee to get paid via mailed check and the minimum payout is $20. Direct deposit has a one time fee of $25 that's taken out of your first paycheck. The minimum payout for direct deposit is $20. Paxum and Western Union have a minimum payout of $500. You are responsible for any chargebacks, which is one of the reasons why they can pay out such a high percentage to their models.
Privacy Protection & Geo-Blocking 5/10:
Your privacy is important to Cam Model Store, and none of your personal information will ever be leaked or given out to your customers. All sensitive information is transmitted via SSL technology and processed safely, securely, and discreetly.
Cam Model Store does not offer any form of regional blocking. This is a problem for any model who wants to block certain states, countries, or zip codes from viewing their content. As Cam Model Store states in their FAQ section, geo-blocking is not 100% guaranteed anyways because of certain factors such as IP address sharing. But it still puts some models at ease and works better than having nothing in place. It's unfortunate that they don't offer regional blocking.
Customer Service & Support 10/10:
The customer service and support team at Cam Model Store is phenomenal! If you're having an issue, they always respond quickly and with all of the information that you need. Everyone on the team is very knowledgeable. They don't offer phone support, but they generally get back to you by email within 12 hours if you contact them Monday-Friday.
Overview:
Although you have to pay a one time fee of $149.99 to open your own store, Cam Model Store can be very profitable and you can make that money back quickly. They make it incredibly easy for you to offer all of your adult services in one location.