Today's review is of a site called Customs for you. It's a cam site that allows models to sell content they've made and recorded. You'll soon know all about it and my thoughts on this media distribution channel if you keep reading. Find out from a cam girls perspective if this is worth using.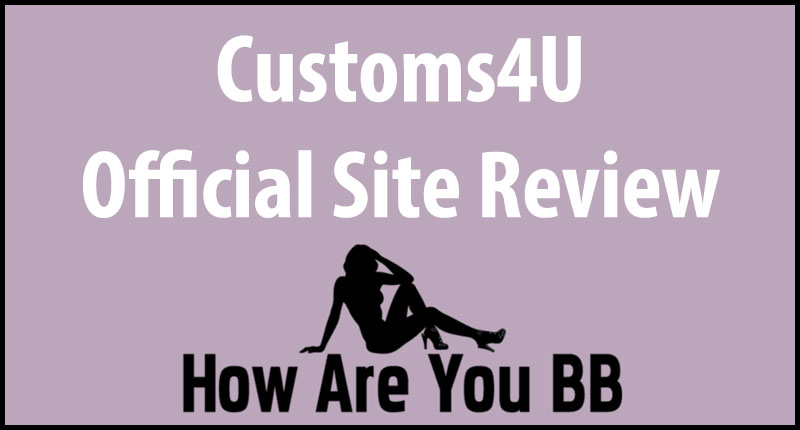 Customs4u Review –  Recently Updated
Customs4U is a site where you can sell custom content and premade videos. You can also do live cam shows on the site. Below I rate them in several different categories, giving them a score in each category out of 10.
Out of 60 possible points, I gave them 50/60, with an average score of 8.33. The majority of their points were lost because they only offer Payoneer to cash out and they do not offer regional blocking, except for your live cam shows.

How Much Experience Do You Have With The Site?
I've been on Customs4U for about a year or so.
Features 9/10
Customs4U offers a lot of features for models to take advantage of. The first is being able to sell custom content. You get a profile page when you sign-up, so you can direct your fans from social media to your profile.
But for random customers browsing the site, they can find you a few different ways. They can search by performer, find you based on tags that you gave yourself, see premade videos that you recently uploaded, catch you while you're doing a live cam show, or find you if you're listed in one of the featured categories on the site (top 20 or most popular).
For custom content, you set all of your own prices per minute. You can also list that you charge extra for certain things such as videos that might get you messy, videos that would involve you having to buy props, shooting your video in HD/4K/3D, or even expedited delivery.
When you upload premade clips to the site, they show up on your profile page and on the homepage as soon as you activate them. For premade clips, you also choose your own pricing, and it can vary by clip. You can add up to 10 tags per video, add a description, put up a custom thumbnail, and submit a custom .gif preview.
The ability to do live webcam shows on the site is fairly new. It is still in beta mode, so they're still in the process of testing everything out.
You can set your price per minute for private and group shows, turn on/off the ability to allow guests (people who are not logged into the site) to view your room, block up to four countries from viewing your cam, and add your own tags.
The different kinds of shows are free to chat, paid group chat, and private chat. There is also a tip jar where customers can tip you extra if they choose to. You don't have to sit around in free chat and wait for customers to take you private if you don't want to.
At any time you can change your settings to put you in private and then you'll get paid when customers enter your private room.
I Hate The Tag Feature
My one complaint about the site is its tag feature. On most sites, they have predefined tags that you can choose from and you select which ones apply to you. Then customers can search only by those specific tags.
But on Customs4U, you are able to set any tag that you want. This sounds like a good idea in theory, but I find it kind of frustrating.
You have to think of every single tag that would apply to you in hopes that you word it exactly like someone searching for something specific would word it. Coming up with every single tag that applies to you can be very time-consuming.
You keep a large percentage on Customs4U. For customs and premade clips, you keep 70%. For live cam shows, you keep 60%. And for tips/tributes, you keep 75%.
Profits & Traffic 9/10
Customs4U gets a decent amount of traffic. It of course helps for you to advertise on social media that your fans can buy custom and premade clips from you on the site, but they bring in a good amount of organic traffic as well.
Uploading premade videos often and doing live cam shows on the site will definitely increase your sales and get you more exposure in general on the site.
I've noticed that customers on the site are very generous. Almost every time I've made a custom sale, the customer has come back afterward and given me an extra tip. And many have been returning customers.
Ease Of Using & Navigating The Site 9/10
The site is very easy to use and figure out. The different tabs are all pretty self-explanatory, but they also provide in-depth explanations of each section of the site.
They make it very easy for you to figure out and you'll be navigating the site like a pro within your first day. My only complaint would again be the ways tags are set up. I feel the site would be easier if there were predefined tags for models to choose from.
Payments & Cashouts 7/10
Cashing out on Customs4U is easy, and you can request a payout twice a month. Right now though you can only cash out via Payoneer, and the minimum payout is $20.
You can choose either a standard payout or an express payout. Standard payouts are sent to you within 2 weeks from the time you make the request.
Express payouts are made within 3 days but generally are sent out within 24 hours. There is no fee for a standard payout, but an express payout will cost you 5% of the total payout.
Privacy Protection & Geo-Blocking 6/10
Unfortunately, Customs4U does not offer any form of regional blocking except during your live cam shows. When you're live on cam, you can block up to four countries.
There is no option to block by state, city, or zip code. But your actual profile page is visible to anyone who goes on the site. They do not offer any way for you to block people from certain regions from viewing your profile page.
This may be a big concern for anyone who's trying to keep their job a secret from family members and/or friends. Some models block the city or state that they live in, but you cannot do that on Customs4U. Any premade videos that you upload to the site will also be visible to everyone.
Although they definitely lack in geo-blocking, they excel in privacy protection. None of your personal information will ever be given out to customers or third parties.
Customer Service & Support 10/10
The customer service and support team at Customs4U is fantastic! I've chatted with them several times over the past year and they've always been very helpful. Their staff is friendly and knowledgeable. They are very quick to reply, usually within the same day.
Conclusion
Customs4U is a good site with lots of features and a decent amount of traffic. I feel like it's worth the time to set up a profile on there, upload some premade clips, and set up all the info for customers to order custom content from you. Especially if you take the time to advertise on social media, you can definitely make a decent amount of money on the site.
Other Reviews For Cam Girls That You Might Like
Here's a list of some other reviews that you might like. As a cam girl, I know that I value this info and I believe you will too!