If you're not promoting yourself as a cam girl, then you're leaving money on the table. Today I'll cover the basics when it comes to using tube sites for promoting yourself. The best part is that this is absolutely free to do and a solid brand-building opportunity for anyone who wants to grow their personal brand as a model. No sense in waiting, let's just dive right into this…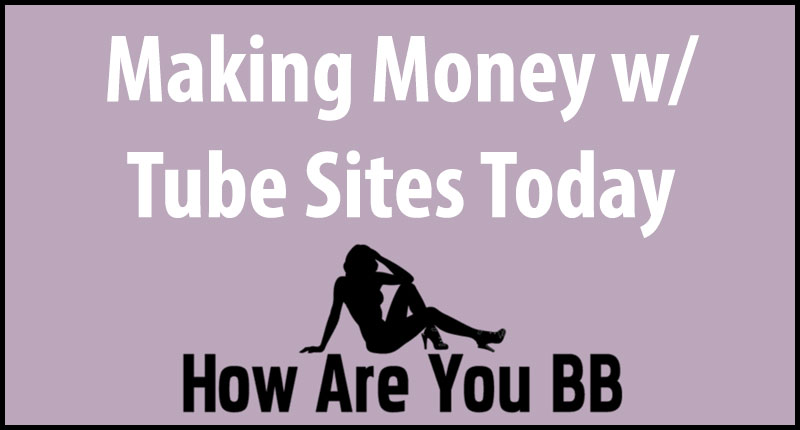 Tube Site Promotion – The Facts
Despite what you might think, tube sites can be a great promotional tool for cam models. The big tube sites get thousands upon thousands of hits to them every single day… that means exposure for you! If you look at free porn tubes as free publicity, and not as negative sites for guys to watch free/stolen porn, you'll quickly see the positive side to it.
There is, of course, a right way and a wrong way to go about getting exposure using tube sites. If you find your content on a site without your permission, you can have it taken down, especially if whoever uploaded it didn't watermark it for you. What you should be doing is creating accounts yourself on all of the big tube sites so that you can be in complete control of what content you add.
List of Porn Tubes To Get Started
Most of the major tube sites have some kind of content partner program or amateur payment program. Pornhub, RedTube, xHamster, Modelhub, XVideos, and YouPorn are good places to start.
Basically, all you have to do is create an account (it's a good idea to make your username be your stage name), and upload whatever content you feel comfortable with (some models will do a few full videos, some might cut out the orgasm part of the video, it's up to you), and wait for the payments and traffic to start rolling in!
You get paid based on the number of views your content gets since the tube sites will put ads on whatever you upload. Also, be sure to watermark anything you post with your website address or camming profile link.
This will help generate you traffic, increase your fan base, and prevent your content from being stolen off of the tube site and put who-knows-where on the internet.
YouTube
Some models use YouTube to promote themselves. It works for some and not for others because of YouTube's strict policies. If you get reported by even one person, they may remove your content or your entire account.
If you do decide to use YouTube, don't post any nudity, and don't watermark any NSFW links. It's best to make your username your stage name and let people find you that way.
Personally, I don't use YouTube. I've found it to be a waste of time, especially since there are adult tube sites already out there. But feel free to give it a try if you want!
You'll definitely want to put together some promo banners and profile pictures to use on the tube sites.
When you sign-up on the tube sites and go to edit your profile, they'll usually let you know what size to make the banners. Just crop down a few of your pictures to that size, add your link, and upload them.
Choose wisely which clips you want to upload to the tube sites. I think it's best to post clips that are within your specific niche and really showcase what your content is all about.