Cam models are always looking for an edge. They're looking for things to do to get their brand out there more and one of those tools to help do that is Ebanned. This is a network that you've likely never heard of before, but it's definitely one that you need to get familiar with. I've covered everything you need to know about this site and why it's a blessing for webcam girls like you and me.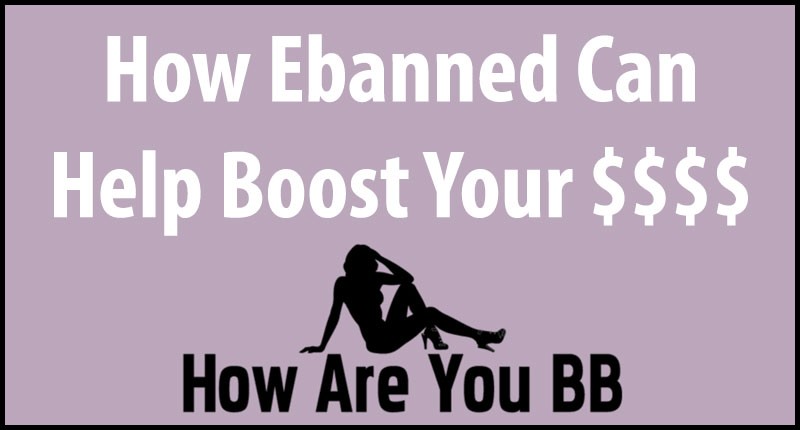 My Review Of Ebanned (For Models)
It may seem like there are tons of different ways that you can make money with your body. People are doing it every second of every day. The truth is that it can be extremely hard to find places that still let you do it.
There are a lot of sites that used to allow the sale of adult merchandise on their platforms in the past. These sites have been going mainstream for years and kicking off all of the people who made them popular in the first place. It's difficult to watch, but it's just a fact of life. If you want to make money with sex, you're going to need a site like Ebanned.
What Is It?
This is an eBay style auction site that lets you sell items and services to the highest bidder. You'll be charged a flat fee for putting it up for sale. It's important to note that this site never processes any of the payments.
You and your buyer will have to work that out for yourselves. You can list your accepted forms of payment with your ad and hope that the buyer has read them before placing the winning bid.
What Exactly Can You Sell?
Just because it's an adult site doesn't mean that you can just sell anything that you want here. There are going to be a few exceptions. They're pretty obvious, though. If it's illegal, then you can't sell it. It's as simple as that. No animal stuff, no personal meetings or actual sex, and nothing at all to do with an underage person.
That still leaves you plenty of room…
The site is pretty open to anything you want to do within the confines of the law. That includes selling used items like panties or sex toys. You can also sell videos that already exist. Trying to sell time on your cam isn't going to work here. There has to be some item that you can put up for bids, whether they're electronic or physical. They just have to exist before you can sell them.
Pros Of Ebanned
There are plenty of really good reasons to use Ebanned. The first one is that they've been around for years. That means you're getting access to an entire group of people who browse it regularly. You don't have to go out looking for people to bring into your ad space.
On top of that, you can incorporate your own branding to anything that you do on the site. You can design your pages with HTML to really customize the content you're posting. It gives you a lot of freedom to really let yourself shine through everything that you do.
Cons Of Ebanned
You're also going to come across a good number of cons with the site. The biggest is that getting yourself started can be pretty hard. Just like on eBay, it's all about your history. If you don't have a number of satisfied customers on your profile then you'll have to work to make some.
You'll also need a little know-how to navigate the HTML format. There are also going to be plenty of models who will lowball each other to make any kind of a sale. It's good for them in the very short term but hurts the overall community in the long term.
Final Tips For Using This Platform
If you really want to go in and start making some good money, all it takes is following a few tips. First off, you need to have plenty of photos with your ads. You want to show off everything you have when it comes to what you're selling. You also want to spend a good amount of time on your profile.
Tell the people who you are and why you're doing what you're doing. It lets them get to know you without the feedback that the other sellers on the site can offer them. You also want to communicate as quickly as you can. If you get a question, answer it right away. Don't let it just sit in your inbox.
That is going to end up being a lost sale in the end. Finally, you want to set up a good payment processor. Find one that isn't going to be asking a lot of questions. Make sure they're okay with the sale of adult items. Then you'll be all set to start selling pretty much anything that you want. It's one of the best ways around for cam girls to make extra money.