My thoughts on Dream Lover
Dream Lover is a website where your fans can securely communicate with you via phone calls, text messaging, and picture messaging. Below I rate them in several different categories, giving them a score in each category out of 10. Out of 60 possible points, I gave them 29/60, with an average score of 4.83. They excelled in their features, but lacked in everything else.
How Much Experience Do You Have With The Site?
I've been on Dream Lover for almost 9 months.
Features 8/10:
Dream Lover allows you to communicate with your fans through pay-per-minute phone calls, text messages, and picture messages. Your actual phone number and your customers phone numbers are all kept private. Instead they use an anonymous proxy number for both of you. You're able to choose which features you want to use and set all of your own rates. At any point, you can change your availability for phone calls and/or text messages. So if you know you're going to be unavailable to take calls/texts, you can turn them off until you're available again.
You choose your own rates for customers to initially purchase your phone number, for them to text you, for you to text them, for them to picture message you, for you to picture message them, and your per-minute price for voice calls. The payout rate is 60%. Customers purchase coins, which is used as currency on the site. Once a customer connects with you by purchasing your phone number, you'll be able to view their current coin balance. The connection lasts for 30 days, at which time the customer must purchase your phone number again if they wish to continue interacting with you.
Dream Lover now offers a service that they're calling Bookings. These are basically live cam shows that you can do with either any member on the site who pays in, or with just one select member for a more personalized show. The show can either be done on Skype or with the Dream Lover Live Platform. If you use their platform, you can cam using a desktop webcam only, no phones. You choose the length of your show and how much each member must pay to join. After your show is complete, you will get paid. By setting up Bookings that anyone can join, you'll draw in new fans who may become lifetime customers!
Profits & Traffic 6/10:
Like the majority of adult phone call/sexting sites, you're responsible for advertising yourself. The site in general does not generate a ton of organic traffic. The majority of it's traffic is from the models on the site posting on social media that they are part of the site, and asking their fans to connect with them on it. Because of this, most of the guests visiting the site are there for a specific girl. So make sure you advertise as often as you can on your own social media accounts.
If you're able to draw in traffic from your social media accounts, your profits can be great! Just having a few consistent customers who chat with you daily can bring in quite a bit of revenue. Just make sure your prices are set appropriately: not too high and not too low. Since it costs new members $1 to make an account on Dream Lover, you know that everyone there most likely has plans on spending additional money, otherwise they wouldn't even waste the initial $1 to sign-up.
Ease Of Using & Navigating The Site 4/10:
The site is generally easy to use and navigate. Although it's easy to find the different sections, there isn't a lot of explanation about how everything on the site works. Aside from that, the scrolling bars used to change your rates is sometimes glitchy and doesn't adjust properly. They don't have a model FAQ page or guides, so it can be a time waster playing around on the site yourself until you figure everything out. They do have a contact form, but no one wants to wait around for a reply. When they rolled out with the Bookings feature, there was no information about it, and there still isn't when visiting the page. You have to figure everything out on your own.
Payments & Cashouts 4/10:
There are only two payout options. You can get paid by check or direct deposit (US only). If you choose direct deposit, the only way that they can verify you is if you provide a voided check. This is an inconvenient and outdated way to verify your bank account. I've seen several models complain about this because they didn't have any checks and had to pay to order them. Most banks will provide you with a few starter checks when you open a checking account, but Dream Lover won't accept those starter checks to verify your direct deposit request.
You are able to set your minimum payout to $0, $50, or $100. There is no information provided about what day(s) of the week payments are sent out.
Privacy Protection & Geo-Blocking 4/10:
Your phone number is protected, so none of your customers will be able to see your actual phone number when you're talking to or texting them. Instead Dream Lover provides both you and your customer with a fake, anonymous phone number. But with this said, if you're taking phone calls, you need to make sure your actual phone number is not mentioned in your voicemail message. If your status is set to available for phone calls and a customer calls you but gets sent to voicemail, they will be able to hear whatever message you currently have set for your voicemail. If it includes your actual phone number, they'll now have that information.
I searched extensively throughout the site, and could not find any options for geo-blocking. This means that anyone, from anywhere around the world who has access to the website, will have access to your Dream Lover profile. This will be a problem for any model who likes to block their state, country, zip code, etc. Although the site is non-nude (your profile picture and background picture cannot show any nudity), it's still not worth the risk for some models.
Customer Service & Support 3/10:
I've never tried contacting customer service or support, so I don't know how long they usually take to reply. I do know that I had a profile picture pending for over 8 months before. They never approved or denied it, so it just sat there in pending mode until I deleted it. Their contact form is not the easiest thing to find. You cannot access the link through your Dashboard. Instead you have to go to the main homepage of the site, scroll to the very bottom, click on the Help Center, and then click on Submit A Request at the top right.
They don't provide models with any guides, resources, or a FAQ page. I guess if you have any questions about how the site works, you have to contact them every time through the Help Center.
Overview:
Overall Dream Lover has some decent features, they just haven't executed them in the most convenient way for the models. If they took the time to put together a resource guide, it would make the site much more appealing. More payment options and more information about cashing out would be a big plus for them as well.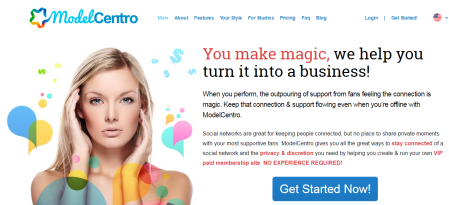 My thoughts on ModelCentro, a comprehensive Review
​​ModelCentro is a platform that allows you to easily run your own membership-based website with no start-up fees. They make everything very easy, so no previous experience is necessary. Below I rate them in several different categories, giving them a score in each category out of 10. Out of 60 possible points, I gave them ​a perfect 60/60​!
How Much Experience Do You Have With The Site?
I've been using ModelCentro for almost a year and a half.
Features ​10​/10:
There are so many great features available to you with ModelCentro. They currently have four premade layouts for you to choose from for your website, each with several different color schemes. Every aspect of your site can be edited with images and text of your choosing. This allows every model using ModelCentro to have a unique looking website.
They make uploading all of your content incredibly easy with their simple to use uploaders. Videos and photosets can be added to your website from your computer or phone with just a few clicks. Once uploaded, you can edit the order of your photos, choose a cover image and screenshots for your videos, add title, description, tags, and several other details. You can choose to show your update only to paying members, or have it free to everyone as a teaser. You also choose whe​​ther or not you want to allow your content to be downloaded by your members. If you have live shows that you've done in the past saved on your computer/phone, you can also upload those to be added to your Recorded Live Shows page.
Speaking of live shows, ModelCentro allows you to stream live shows via their own browser app or an external encoder. You can choose to do a public show that anyone can view, a members only show that can only be viewed by ​all ​members of your website, or a private show for select member(s).​ ​During the show, members can chat with you and send you tips. Once you​r​ show is complete, the whole thing is automatically saved to your Uploads page. From there you can download it for editing, publish it as is to your website, or delete it.
ModelCentro is the only website that is integrated with Streamate. If you cam on Streamate, you can greatly increase your profits by connecting your ModelCentro website to your Streamate account. When you connect your accounts, a banner will be automatically generated on your Streamate profile. When your fans click that banner, they'll be able to sign-up for your ModelCento website. Streamate and ModelCentro both keep a portion of your earnings when you get sign-ups this way. Your fans' membership will automatically renew each month until they cancel.​​ Your earnings will show on your Streamate earnings page, not your ModelCentro earnings page and you will be paid through Streamate.
There are so many more great features you get with ModelCentro. When signing-up, they give you a free .xxx domain for the first year.​ They have a built-in affiliate program that you can enable to have affiliates promote your site. You're able to choose all of your own program details and percentages. You can integrate your Amazon wishlist into your website, your SkyPrivate account for Skype shows, your VerifiedCall account, and all of your social media accounts. You can also easily connect your Google Analytics and Webmaster Tools accounts. You're able to share your personal stories, updates, etc. via your own blog. You can also let your fans know what you have planned for the future from your calendar.
​Besides all of the features they already offer, ModelCentro is constantly working on new features that have been requested by the models. There is a lot planned for the near future including a shop where you'll be able to sell tangible goods and custom content and a fully functional iPhone/Android app.​
Profits​ & ​Traffic ​10/10:
​The profits you can make from ModelCentro are endless! There are no start-up fees, only a percentage taken from each sign-up/renewal. From direct traffic, there is a 10% payment processing fee taken out and then 25% taken from the remaining amount. So essentially you keep 65% from all sign-ups through direct traffic. If the member is referred from one of your affiliates, there is an affiliate share taken out based on your affiliate program details.
​A lot of your traffic will come from you advertising your own website via your social media accounts or camming profiles. If you enable your affiliate program, you'll also get traffic and sign-ups from them. ModelCentro gives frequent shout-outs from their models.xxx Twitter account. Aside from that, you can enable models.xxx promotion, which will automatically promote your new content on their models.xxx blog.
Ease Of Usin​g & ​Navigating The Site 10/10:
​The ModelCentro dashboard is incredibly easy to use. Everything is laid out in a way that makes it easy to find. All of the different sections have great descriptions that let you know what each feature does and how to use it. If for whatever reason you're having trouble finding something, they have a build-in guide that can help you.​
Payments​ & ​Cashouts 10/10:
​ModelCentro holds you responsible for any chargebacks, so your earnings are on a 2 week hold. As soon as your funds are cleared and the payout minimum for the specific payment method is met, payouts are made every Tuesday except on major holidays. For different payout methods, there is a minimum that must be met before payout. That minimum is $100 for checks and Payoneer, $50 for Paxum, and $500 for a wire transfer. When logging in to your Dashboard, your all-time revenue, amount on hold, and next payout information is all displayed for you.​​ You can also view your Transactions List ​for a more in-depth analysis.
Privacy Protectio​n & Geo-Blocking ​10/10:
Your privacy is incredible important to ModelCentro. They'll never reveal any of your personal information. As far as geo-blocking goes, ​you're able to block by country, city, state, and IP address.
Customer Service​ & Support 10/10:
​ModelCentro's customer service is top notch! When you first sign up, you're assigned a dedicated account manager. If you're ever experiencing any problems, need to report a bug or glitch, have a question, or need something updated on your site that you can't do yourself, you can email your account manager and/or support. They are very quick to reply and the issue will be solved in a timely manner. If it's something that is going to take some time to fix, they keep you updated throughout the entire process.​
Overview:
​Overall, ModelCentro excels in every aspect of what they offer! They are one of the leading CMS platforms in the industry. And even though they haven't been around for a very long time, they know what they're doing and they do it well. If you're a model looking to start your own membership-based website, they are the best option to go with in my opinion. Not only is the payout one of the highest in the industry, but the platform is incredibly easy to use and provides you with a lot of freedom.​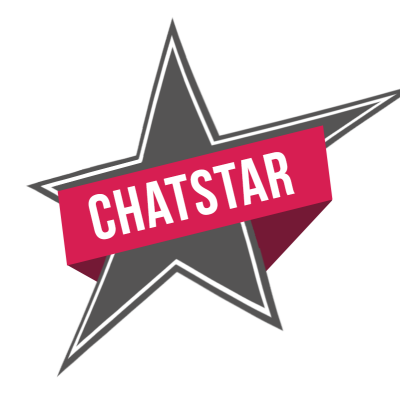 My review on Chatstar
ChatStar provides models a secure way for their fans to sext and call them. Below I rate them in several different categories, giving them a score in each category out of 10. Out of 60 possible points, I gave them 49/60, with an average score of 8.16. They excelled in their overall features, navigation, payouts, and customer service.
How Much Experience Do You Have With The Site?
I've been on ChatStar for about 9 months.
Features 9/10:
ChatStar allows models to communicate with their fans via phone calls, SMS (text messages) and MMS (sending/receiving pics/vids via text messages). Your actual phone number is never revealed to your fans. Instead they use a forwarding system so your real phone number is kept private.
You're able to decide what services you want to offer and what you want your rate to be for each service. You can set up your own pricing for the initial purchase of your phone number, price per minute for phone calls, the price for a fan to text you per message, the price for when you text a fan back per message, when your fan sends you a MMS, and when you send them a MMS.
ChatStar has done some marketing research and found out that if you set your phone number rate to free (for the initial purchase of your phone number), you're more likely to get fans in your network, which increases your chances of converting fans into paid fans! They still pay your normal per message or per minute rate, but they don't have to pay for the initial purchase of your number. If you set your phone number to free, you also get a "Get My # For Free" badge on your profile picture. Fans are more likely to view your profile when they see that badge.
Profits & Traffic 6/10:
If you take the time to advertise on your social media accounts that you use ChatStar, the earning potential can be great! ChatStar's own social media accounts have been inactive for a while now, so don't expect a shout-out from them. Whatever traffic you get will either come from you doing the work yourself by blasting it on social media (the main way) or from organic site traffic, which isn't the best in the sexting/adult phone call market.
To increase your profits, check out some of the prices that other models have set. If you set yours too high, customers are gonna move on to the next girl who has cheaper pricing, but offers the same kinds of things you do.
Ease Of Using & Navigating The Site 10/10:
The site is incredibly easy to use and navigate. They make everything very simple for you to find, and do a good job explaining everything. The few tabs that they have are very self-explanatory and to the point. On just six different pages, you can navigate through everything you need.
Payments & Cashouts 10/10:
You keep 60% on the site and payments are sent out weekly, every Thursday. Pay periods are from Monday to Sunday which are paid out on the following Thursday. They provide you with a transaction list so you can see the fan that's paying you, what the payout amount is per interaction, and the time of the interaction. They also have an Earnings History page which breaks down your payments by week.
Privacy Protection & Geo-Blocking 4/10:
From everything I've seen on the site, they do not offer any form of regional blocking. This may be a problem for some models who want to block a certain state or country from being able to find out their profession.
From different comments I've seen on various forums, some models are skeptical about the sign-up process due to privacy issues. When you sign-up for ChatStar, you put in a very minimal amount of information. After signing-up, a representative from the site will email you asking for the rest of your information (ID, headshot, social media accounts, etc.). This isn't the best practice, since it may seem sketchy to some. But I personally haven't had any problems, and my account was set up without any personal info getting leaked. I've also never heard any models who are actually on the site complain.
As far as your actual phone number goes, that is protected by ChatStar. They use anonymous proxy numbers in order to relay communication between you and your fans. One VERY important thing you need to check if you are accepting phone calls is your voicemail message. Make sure your voicemail does NOT mention your phone number! If you miss a call from a ChatStar customer and they're taken to your voicemail, you don't want them to hear your actual phone number.
Customer Service & Support 10/10:
When you first sign-up, not only do they quickly contact you via email with general information about the site, but they also set you up with some promotional graphics. They'll usually pull a couple pictures from your Instagram, and jazz them up a bit with the ChatStar logo and the link to your profile page.
Overview:
ChatStar is a decent site overall as long as you're willing to work for it. Like I mentioned earlier, the organic traffic that they generate could be better, so the majority of your fans are going to come from you directing them there. The services they offer are great though if you're looking to get into sexting and/or adult phone calls. They make it quick and easy for you to get started on the site.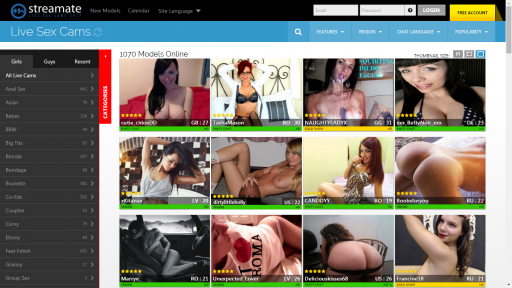 Streamate Review
When deciding which cam site you want to cam on, checking out Streamate is a great option. Unlike some sites where you can perform sexual acts in public, Streamate does not allow below the waist nudity unless you're in a private chat session. The benefit to this is that your content won't get stolen as often and distributed all over the internet and you don't have to beg for tips. If someone likes your look, personality, or the things you offer, they'll take you into private for a show.
There are three different kinds of shows you can do with Streamate: private, exclusive, and gold shows. For private and exclusive, you set your own rate that your fans pay per minute. Generally your private rate will be set lower than your exclusive rate. You can also choose to offer block sessions. Block sessions are "bulk" chat sessions where your fan pays for a committed amount of time with you (15, 30, 45, or 60 minutes). Depending on the length of the block session they choose, they get a discount off of your normal rate (5% for 15 minutes, 10% for 30 minutes, 15% for 45 minuttes, or 20% for 60 minutes). Once you have accepted a block session offer, you must stream for the entire time block, otherwise you won't get paid and you could face account suspension.
In private chat, multiple fans can enter your room and watch the show. Because of this, most models will not take requests and just kind of do their own thing and put on a more general show. This way everyone is satisfied.
1)Exclusive is one-on-one, just you and the one fan who took you exclusive. Since it's just you two in there, this is where you can take requests, use their name, roleplay, perform fetishes, and put on a more personalized show for them.
Gold shows are a bit different. When starting a gold show, you put in your room topic describing what you plan on doing in the show, how much each fan has to contribute into the show in order to watch it, the amount of gold (1 gold= $1 USD) you want to collect overall in order to start your show, how long your fans have to get you to that goal, and how long of a show you're gonna put on. If you reach your goal before the timer is up, you'll definitely start the show. If you don't reach your goal in time, you can decide to cancel the show (none of your fans who tipped in will be charged and you will not be paid anything) or go ahead and do the show anyways. If you're pretty close to your goal, it's a good idea to just go ahead and start. Some fans will wait until they see if the show actually starts or not before they join. So you may end up hitting your goal during your gold show.
Streamate also has a very cool (and profitable!) newer feature: TV Broadcasts. These shows used to be broadcast on live television, but their television partnership has ended. However, the feature is sill active and a great way to pick up new fans! TV Broadcasts are very similar to gold shows. The main difference is that they are guaranteed shows. This means that even if you don't hit your goal, you still get paid your entire goal! If you don't hit your goal, Streamate will compensate you about 30 minutes after your broadcast has ended. TV producers hand pick who to give TV Broadcasts to and they set your goal based off of the average you usually pull in during a gold show. Another small difference is that you must turn off all music and move anything that could be a copyright infringement out of the view of your camera.
Your ranking on the site is partially based off of ratings that your fans give you. Fans are prompted to rate you between 1 and 5 stars after a private or exclusive session. When they first enter the show, be sure to encourage them to rate you 5 stars afterwards. Some models will even offer a video or photo in exchange for a 5 star rating.
And that takes us into another feature on Streamate: their messaging system. The way the messaging is set up on the site, you cannot message a fan unless they message you first. Make sure you always let your fans know this if you offer them a video or pictures after a show so that they know to message you first in order to claim it. Sharing any personal information/social media accounts/other usernames/other websites is against the rules on Streamate. But anonymous file sharing, such as through Dropbox, is allowed. Be sure that there is no personal information or watermarks (unless watermarked with your Streamate username or URL) on any of your videos or photos that you offer.
The final feature on Streamate that we're gonna delve into is their integration with ModelCentro. ModelCentro is a CMS platform that allows cam models or independent models to easily run their own fan site. If you have a website through ModelCentro, you can link it with your Streamate account and advertise that link when you're broadcasting on Streamate. You cannot give your actual website URL out, but instead a banner will be automatically generated on your Streamate profile. When your fans click that banner, they'll be able to sign-up for your ModelCento website. Streamate and ModelCentro both keep a portion of your earnings when you get sign-ups this way. Your fans' membership will automatically renew each month until they cancel. When they sign-up to your ModelCentro site through Streamate, you can also offer them a percentage off your private or exclusive shows while they're a member of your site.
Steamate's current global ranking according to Alexa is 10,465 and 4,845 in the United States. Not as good traffic as some other cam sites out there, but still decent. If you like the idea of private shows as opposed to public shows (like the ones you would do on sites such as Myfreecams), Streamate is one of your best options.
Streamate Video Review
Do you want to compare how streamate compares to other webcam sites?
Want to see how streamate compares with other webcam sites. We review each of the major webcam sites. We do a full in depth comprehensive feature review, as well as listing the payouts, alexa rankings, Us Traffic % and more information helping you make the decision if streamate is really the best cam site for you.