If you're a cam model, then you really need to understand the ins and outs of creating content. Shooting is essential for this type of model and knowing how to shoot high-quality amateur content will help boost your earnings. This advice should help you build up your content quicker and with more quality.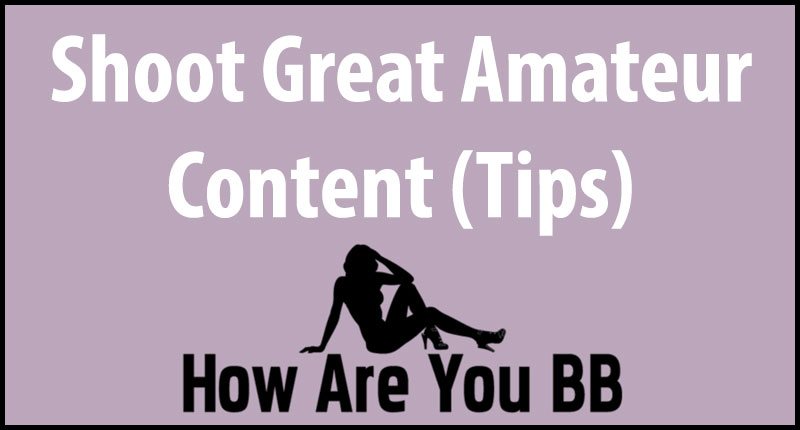 Advice On Shooting Amateur Content
Even though you may be shooting all of your own content, or have a friend/significant other helping you out, it's important to make your content look professional. With 4K and 3D videos out now, you definitely should at least be shooting your content in 1080p HD. Heck, some people are shooting in UHD aka ultra-high-definition even.
Resolution Matters
You are selling yourself, after all, so you want to make sure your fans can actually see you in good resolution. Have you ever been streaming a video online or watching Netflix when the quality drops?
Everything gets dark, grainy, and blurry. The sound quality may even drop. No one likes that. And the same thing goes for watching porn.
Real Feel Must Remain
Amateur porn is huge right now. The vast majority of guys out there like the "real feel" you get with amateur porn as opposed to produced porn. It comes across as more believable and doesn't feel forced.
With amateur porn, the person watching it can often put themselves into the situation, and that's a big part of the appeal. But just because it has the word amateur in it, doesn't mean it has to be shitty quality.
Poor Quality Is A Turnoff
Even if a guy really likes your style and the kind of content you make, he's likely to move on to another model who shoots similar content if your quality is bad.
Upgrading your equipment may seem expensive, but it will definitely pay off. You'll not only notice an increase in premade content sales, but also in custom sales.
Camera Equipment Matters
If you upgrade your webcam to HD, you'll see an increase in the number of guys in your cam shows. As I said, they want to really be able to see you… all of you… clearly! So upgrading to better equipment really is a must nowadays.
One of the first things you should consider upgrading is your lighting. You can get a good, professional lighting set on Amazon for around $50.
Even if you can't afford to upgrade your other equipment right away, just getting better lighting will really make a difference in the overall appearance of your videos, pictures, and webcam shows.
Make sure you check out my lighting guide for placement tips and tricks to really get the most out of your lighting equipment.
Upgrade Your Webcam Too
If you aren't already using a webcam that can capture full 1080p HD video, I'd definitely recommend upgrading. On some cam sites, your ranking is determined partly by the quality of your stream.
So using an HD webcam can really boost your placement on the site. HD webcams not only make your video stream look better, but they increase the sound quality as well.
You'll be able to do more in your shows because your fans will still be able to clearly hear you even if you step back away from the camera or move around a lot.
Close Ups
I get requests for close-ups during my cam shows on a daily basis. If your webcam doesn't capture HD video, your close-up shots are gonna look blurry and grainy.
In fact, your overall cam stream will look grainy, dark, and sometimes off-color. With most models camming in HD, it's especially noticeable to customers who frequent cam sites.
They'll immediately notice that your quality is lower than other models, and may not even give you a chance. If you're looking for a webcam that shoots in full 1080p HD, I list a couple of options here.
But basically, the two most popular webcams are currently the Logitech C920, which will run you about $70, and the Logitech Conference Cam BCC950. This cam goes for about $180. The main difference between the two is that the BCC950 comes with a remote so you can remotely control the movement of your camera and use the remote to zoom in and out.
Recording Stuff
The next most important upgrade is your camcorder. If you shoot custom content or videos to sell on your website or on clip sites, you'll definitely want to get a camcorder that shoots in HD.
A decent camcorder will run you between $180-$300. The Sony HDRCX240/B Video Camera is a decent option if you're looking to stay on the cheaper side of the spectrum. It captures video in 1920×1080 resolution and is lightweight and easy to use.
Although a good option, I've noticed an issue with this camera. Even with professional lighting, the video can be a bit dark. If you're able to shoot outdoors or in natural lighting, it looks much better. But pretty much anything shot indoors won't be as clear or bright as it should be.
With that said, it's still a really good option, and even though things aren't as clear as they could be, it still gets decent shots: both far away and close-ups.
Another Option
A better, but more expensive option, is the Canon VIXIA HF R700 Camcorder. This camcorder will run you about $300 on Amazon. It also shoots in 1920×1080 resolution, is lightweight and easy to use. But the video clarity and brightness is much better than the Sony cam. If you shoot a lot of videos and can afford it, I'd definitely recommend this cam.
Camera Upgrades
The final thing that I would recommend upgrading is your camera. I'm mentioning it last because it isn't as important for some models. Many focus on camming and don't really have the need for a professional camera. And a lot of models will just use their phones.
But if you have a website where you post photo sets too often, or if you get a lot of custom picture requests, I'd recommend getting a DSLR camera. I'll warn you ahead of time, these aren't cheap.
It's recommended that you buy several different lenses, which are also quite pricey, so that you can capture good quality close-up shots, shots from further away, motion shots, etc. I personally use the Canon EOS 60D with 18-135mm lens. This camera is great!
I love everything about it… except for maybe the price. With the lens, it's gonna run you about $1,080 on Amazon. I mainly focus on full-body shots, and this lens is perfect for that.
But if you do a lot of close-ups, you'll need to invest in a lens that's specifically for that. This camera can even record video. It's not as good as an actual camcorder, mainly because it doesn't have an auto-focus.
So if you move positions or get closer/further away from the camera, the whole video may turn out blurry.
Tell Them What Tools You Use
When talking to potential customers about shooting custom content for them, one of the first questions they'll ask is what equipment I use and if I shoot in HD/high-resolution.
When I tell them what I use, many say how relieved they are to hear that and tell me about previous bad experiences they had with other models not shooting with good quality equipment.
So upgrading to HD is definitely important and will most definitely increase your sales. You'll also be able to charge more for your content because the quality will be better.
Conclusion
That's everything you need to know about upgrading your tools for creating content that consumers will love. I know it sounds expensive, but truth be told, you need to invest in yourself, and your equipment if you want to truly be successful today as a webcam model.