Yaaas! It's Q&A time with yours truly! As you may or may not know, I've been a full-time cam model for years and I've been doing my best to help share some insight on a few things that girls have asked me over the years. There are so many questions that lots of cam models (and consumers) don't ask. I'm sharing knowledge on some topics that people have asked me over the years. I wanted to publish them here today for you and the rest of my readers. Feel free to contact me via this page if you have any other questions. I'm happy to answer them all! 🙂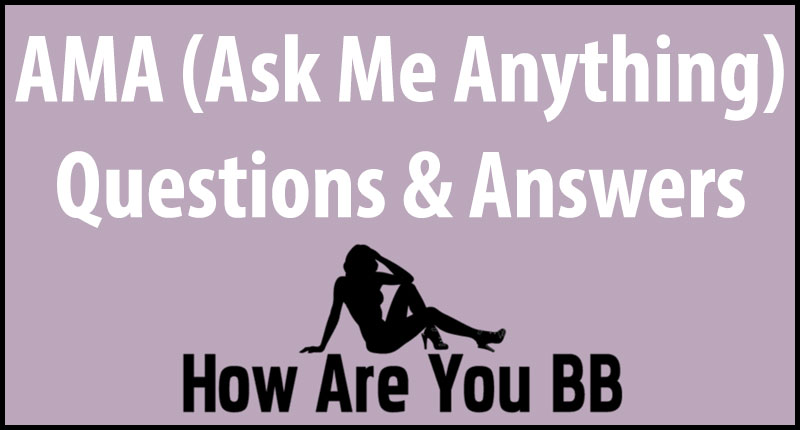 Common AMA Cam Model Questions & Answers
Here goes nothing! All the questions and answers you need from me (more about me at the bottom of the post if you're new to the blog).
Do cam girls have to do cam2cam in private sessions?
There is often a misconception that all cam girls have to do cam2cam private sessions. This is false and in fact, there are many out there using various platforms that only do group shows, gold shows or whatever lingo the platform uses for public group chat sessions.
Some models do decide to do private shows without enabling the cam2cam function. That's completely up to you and the customer on whether or not you wish to each participate in that type of show.
In fact, there are LOTS of cam models that make TONS OF MONEY just by simply talking to users and putting on twerk shows. The girls that have mastered their twerk skills (like myself) can really profit major doing this!
Do cam girls have pimps?
Cam girls DO NOT have pimps. It doesn't work like you think, with pimp bosses running these models. Quite the contrary actually. It's a VERY PROFESSIONAL and SAFE alternative to escort work. There are professional cam studios that exist and they do to a certain extent manage the models, but it's all done in a legal and professional manner.
The one awesome thing about this profession is that it allows models to set their own schedules and be their own boss in a safe environment.
In other words, no pimps are in this industry running these things. It's a safe and reputable occupation with many reputable cam studios in the United States and other parts of the world. Oh, I'd like to add that models can also do whatever they feel most comfortable doing.
If talking is all they want to do, then they can do just that and nothing else. It really boils down to their personal comfortableness and what they want, not what a typical boss requires of them. Again, another one of the pros of camming today!
Do cam girls get contracts?
If you're a really, really, really popular webcam model with hundreds of thousands of followers and a major social media following, then you can get a contract.
However, for the most part, a lot of these girls are using multiple platforms to connect with cam site users. I've heard of some super famous pornstars getting contracts with Camsoda and Streamate (read the review here), but that's a rare case.
Do cam girls become involved with customers?
Most of the time, the smart cam model will keep an arms-length distance from their customers. I always keep a certain distance because I like to act professionally at all times. These cam consumers can be really clingy at times and literally plan their day around the model showtimes. Which is great because you can make lots of money!
That said, if you're a cam model and you're getting close to some of these consumers then you might be better off keeping things professional and not getting too close. Ideally, it's best to not get physically or emotionally involved with the consumers (or models), regardless of what side of the coin you're on.
Can you gift cam girls iTunes gift cards?
This one is is a common consumer question and the answer is…of course! You can gift cam girls anything you want, especially iTunes gift cards and Amazon Wish List items. Many of the models will share their Wish Lists, PayPal, Bitcoin, and all that jazz. If you're a cam girl and you're reading this article and the site you're camming on allows you to share the data, the DO IT! If you're a consumer and you find a Wish List, then buy something or donate. It will go a long way.
Can teachers be cam girls?
Yup! There are actually a lot of cam models that spend time camming when they're not doing work in the classroom. Actually, now that I think of it, there are some REALLY FAMOUS cam models who use the word "teacher" in their names.
This is something that I recommend doing if you're either a) really a teacher or b) looking to build that teacher-like persona via your modeling.
Can non-nude cam girls make money?
There's a reason why cam sites have non-nude categories for consumers. Many consumers out there are into the CFNM type stuff and these non-nude categories cater to those fetishes. I'd say if you can play a sexy clothed female role in the CFNM type scenario then you'll be able to make a ton of money online!
Can an "ugly" girl make money as webcam girl?
There is a saying that beauty is in the eye of the beholder and that holds true for sure. What one may see as being ugly, another may see as beautiful.
So, with that being said, it's still very possible for an ugly girl to make money. More importantly, you'd be better off trying to build your confidence. Spend less time worrying about being ugly and more time finding customers to chat with.
Can I be a cam model with belly fat?
This one is a stupid question but frequently asked. There are all types of models camming today and not all of them have flat stomachs. In fact, some people like the bigger more chubby girls. It's a fetish called BBW and SSBBW. Don't worry about your belly fat, you will make money if you put on a smile and have a great personality!
Well, those are the questions that most people want to know but are afraid to ask. If you're a model looking to cam for money, then do yourself a favor and kick things off via Camsoda's platform. If you need motivation and more tips, then keep reading my blog for more info.
I'd like to wrap things up by saying that being a cam model has really changed my life. It's one of the safest and most rewarding things that I've ever done. I have never felt better about myself and I'm profiting in every way possible. You can too, trust me!