Do you enjoy playing the femdom role in the bedroom? If so, then you might have found a way to make a bunch of money. The female domme models cash in big. I play this role occasionally for certain followers. Here's everything you need to know about cashing in on the domme chat sessions today. Before I get into the tips, you're probably wondering which cam platform I use for this. It's none other than www.camsoda.com.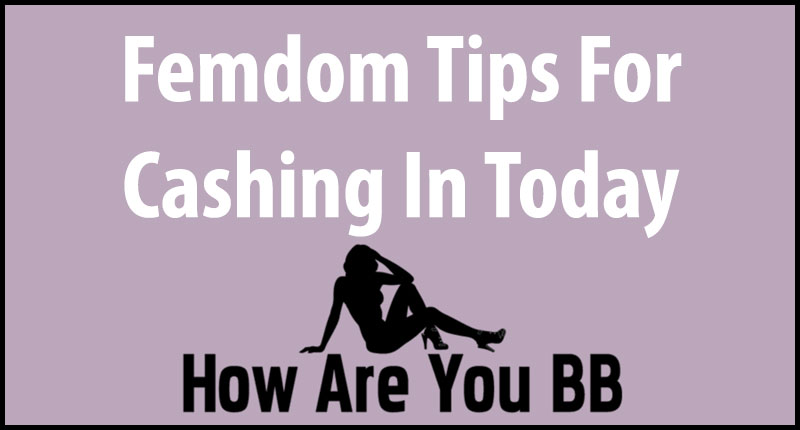 Female Domination On Cam
Female Dominants, or femdoms, are possibly the most sought after fetish providers on webcams. Any woman who's willing to provide this service can expect a constant stream of traffic from both men and women who fetishize the idea of being made to submit to a woman.
It's a fairly inexpensive way to get long term customers who will keep coming back for your brand of domination. You just have to work out what that brand happens to be. Here's a rundown of what domination actually is and how you can use it to entertain your customers in exchange for a long-term financial partnership.
Brands Of Domination
There are essentially three different brands of domination that you can incorporate into your cam experience. You can choose to stick solely to one type or you can branch out and use all three. It's up to you, but you should always be willing to let your brand grow as you explore your own likes and dislikes.
You'll also have to consider which of these brands is bringing you the most money. You'll end up with a balance of personal pleasure and financial compensation that will be your brand and no one else's.
Domme Worship
The next brand is more accessible to most customers. It's called Worship and is used to show the customer that he or she is only there to pleasure the dominant, whether or not they're worthy enough to be in her presence.
This type of domination usually requires some form of earned nudity. The cam model will start off by removing small pieces of clothing such as shoes. The customer will be required to flood the model with compliments about her body part and the article of clothing. Once the area has been properly worshipped, the model will move onto the next one.
Humiliation Domme
The humiliation brand of domination revolves around insulting the customer and making them feel small and insignificant when compared to you. It usually involves verbal humiliation in the form of talking down to your customer. You'll have to call them names and verbally feminize them.
This can also include things like SPH (a cam acronym), or small penis humiliation. This will require a cam to cam session or pictures, but many customers have fetishized the idea that their penises are too small to please a woman, and therefore unmanly. If you can imagine male insecurity, you can find men who have fetishized it and want a cam model to use it to humiliate them.
Fetish Domme
The final brand is fetish domination. This allows a model to incorporate any specific fetishes she wants into her domination sessions. This can be anything from feet to pantyhose or spitting, smoking, vore, and even the giantess fetish.
If it's a fetish, the model can use it. Running through all of the different variations is next to impossible since there are so many of them. Simply use the fetish to humiliate the customer and they'll be getting what they want.
Submissive VS Slaves
As you grow your customer base, you'll be coming across both submissives and slaves. These are essentially two different intensities of the same thing. A submissive is likely visiting multiple dommes for sexual pleasure. You can expect to talk to them in your free chat and seek humiliating tasks in paid chat.
The slave is a committed submissive who is likely to only visit one domme. He or she is willing to make time to visit based on your schedule. They're going to use their free chat to announce their presence then carry out all interactions in paid chat.
Financial Domination
No matter what brand of domination you offer, the most lucrative form of it is going to be financial domination. This is when the customer is forced to pay for every single interaction with you.
The underlying current is that they're unworthy of any of your attention. That's why they have to pay you money in exchange for your time.
There are many different ways of doing it and you'll have to match your services with what the customer is willing to pay for. If you can provide the services they want, you can rely on a constant income stream from them.
Fetish Domination With FinDom
One of the easiest ways to financially dominate a customer is through your fetish domination. You can take any fetish and turn it into a reason to take money from them.
A foot fetishist, for instance, can be ordered to pay you every time they get to see your feet. They can pay you to blow smoke into their faces, open your mouth and threaten to eat them, or even make them pay you not to be crushed by you with the giantess form of fetish.
Go With What Works
No matter how you decide to try out domination, just make sure that you go with what works after you find it. If you come across a certain type of customer who really enjoys a certain brand that you offer, lean into it.
Finding what brings in the customers is one of the most important things that you can do as a cam domme. You might not be expecting to be good at the things that you're good at. You'll only be able to tell by the things you do that bring in the most money.
Try It Out
Deciding to be a domme is a big one. You might not like the way that it makes you feel or the kind of people it brings you into contact with. If you try it out and don't like it, simply move on. You won't know until you give it a shot.
See what you like and what's being asked of you. If you want to continue then you can expect to make a decent amount of money. If you don't then simply change to the kind of shows that are unique to you and your own brand of camming.