If you're a cam model and you're not blogging, then you're leaving a ton of money on the table. I'm not talking about writing novels here, but updates for members and other cool posts. This blog post lays out the information on how to blog the right way. If you're a cam girl that wants to succeed, then I suggest you read this.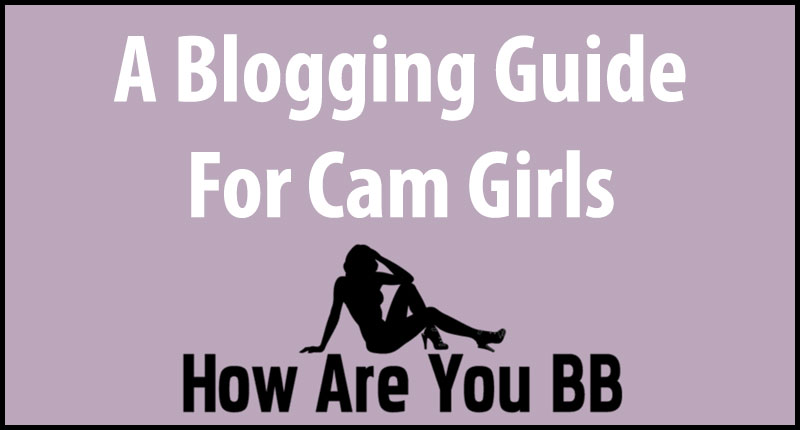 Webcam Model's Blogging Guide
Blogging is a great tool that every cam model should be utilizing. Not only will it increase your SEO, get you more recognition and help with building a fan base when done correctly, but it also gives your fans an insight into your everyday life.
You may have noticed that a lot of guys want to get to know you on more of a personal level. Not everything always has to be sexual. When you talk about things that are happening in your everyday life, fans will feel a much stronger bond with you because they can relate. This is the key to building up a fan base of guys who come back to see you over and over again.
The Sites / Platforms
There are lots of different blog sites out there. You'll definitely want to make sure you use one that is adult-friendly. This way you can post links to your website, clip sites, cam sites, etc., as well as naughty pictures if you choose to.
The top sites that I recommend are Tumblr, WordPress, and ModelCentro. You can use one or even all three of these sites for a blog. I would personally recommend using either WordPress or ModelCentro in conjunction with Tumblr.
Search Growth
If you have a website through WordPress or ModelCentro, you should definitely be using their blog feature. Blogs are search machines! For anyone who doesn't know, SEO stands for Search Engine Optimization.
Essentially, it's the process of using keywords that pertain to your niche to get free, organic traffic to your website, and helps you rank higher on search engines for those specific keywords.
For example, if your main niche is femdom, you'll want to use that word as often as you can when you're blogging. That way when guys go to a search engine and search for femdom, you'll have a higher likelihood of popping up. There are many more factors to ranking high in search engines, but making all of your blog posts keyword rich is definitely an important one.
Link With Intent
Another way to increase your outreach through your blog, is by linking to and writing about your content. This is especially useful when trying to increase your SEO for your website in general.
Every time that you update with a new piece of content, you should blog about it. Make sure your blog post has these important elements: a title, H1, H2, a picture, keyword rich text that describes your content, and a link to your content. Search engines look for all of this when ranking your site. The H in H1 and H2 stands for header.
H1 should be used for the title of your post. It should be the largest text on the page and stand out the most. H2 should be used for keywords or to distinguish different sections within your blog post. If you add a picture to your blog post, the title of that picture is also important. You never want to use spaces in image titles. Instead, use dashes to separate words. I recommend naming your pictures your porn/cam name and then the title of your content.
So if I had a video called School Girl Babe, I would name my picture dirtylittleholly-school-girl-babe. Search engines look at everything when ranking you, so even naming your pictures or videos for your blog posts is important.
You can also increase your SEO by linking to other pages on your site. So if you have a ModelCentro website and are writing a blog post on your MC website, link to your other MC pages when applicable. This is easy when writing about new content. You can just link to that new content and easily increase your SEO.
Real Talk Real Life
Ok, so aside from using your blog to promote new content, it's also a good idea to talk about your everyday life. As I mentioned earlier, this is a great way for your fans to connect with you on a more personal level.
If they feel like they can relate to you, you become more than just a sex object in their mind. They'll respect you and want to support you. As cheesy as it may sound, this bond is actually really special. When you talk to these guys every day, you really do start to build a relationship with them.
Letting them in on more than just the sexual stuff can make you feel much more comfortable and make you enjoy your job even more. Your blog posts can be about anything, just keep them real. Maybe talk about what you did over the weekend, or if you have a big vacation planned for the future. Have any interesting stories from your past? Anything can be a writing point.
Talk and Post Socially
Whenever you make a blog post, be sure to post about it to your different social media accounts. If you have a website through ModelCentro or WordPress, use that as your main blogging site and then definitely link to it on other sites such as Tumblr. Some of the tips in this article don't only pertain to blogs. Use these simple tips to increase the SEO to your other social media accounts as well.
Conclusion
If you're blogging and doing the things that I'm suggesting above, then you'll likely reach more people and grow your fanbase a lot faster than those not doing so. Trust me, when you're a new cam model every action counts, so put in the effort to reach people and earn more money.