Camming is fun and all, but most models (including myself) don't do it just for the fun of it. This is a business and we're in it to win it – financially. Last week I shared some tips for guys on Chaturbate and this week I'm kinda piggybacking off that as well. Getting paid using some cam platforms is just not that easy. The good news is that platforms like Chaturbate, Streamate, and Live Jasmin make it really easy to get paid on a regular basis. But I've covered all the details below. Keep reading to learn more about collecting your moolah!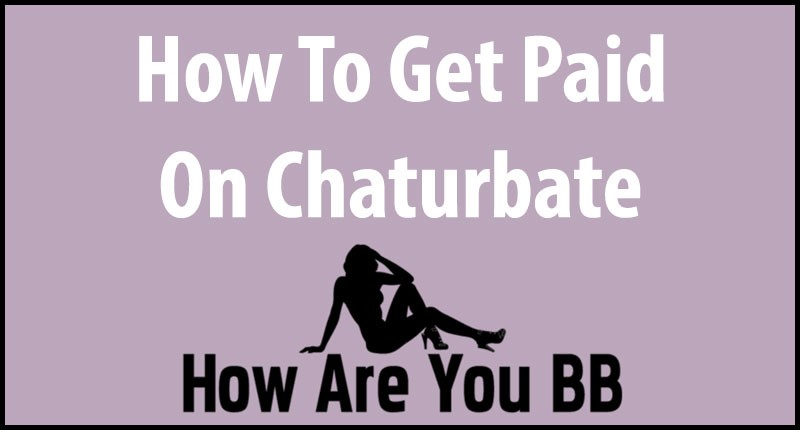 Getting Paid On Chaturbate
Chaturbate is a cam site that's free for everyone to use. No one has to pay for a monthly membership unless they want to. That means that it's filled with people who are ready to spend much more money on the models that they see.
You can make your money through tips and by giving private shows. Each one has its own benefits and you decide which one works best for you. It's a great way to make some money while having the kind of fun that you know you love. Here are the short steps necessary to start using it.
Sign Up And Start Broadcasting
All you really need is a webcam and an internet connection. That's it. You can make an account and start broadcasting right away. You'll be able to talk to anyone in your chat room and you can show yourself off in any way that you want.
You can stay online for as long as you want and you can leave the site whenever you want. Everything is very easy to understand and the site goes out of its way to make sure you can get on and start having fun.
Verify Your Age
The only thing you have to realize is that you can't make any money on the site until you verify your age. This includes sending in a photo of your ID or some other form of identification.
You have to be over the age of 18 if you want to start earning your tips and money for private shows. It's best to start it off early because it takes a few days for the verification to come through. Once it does, you're free to start making all of the money that you want to make with your body.
Be Consistent
The best thing that you can do for yourself is to be consistent with the days and times that you're on your cam. You want to be on it as much as you possibly can.
You want your viewers to be able to rely on when they can see you. It's the best way to make sure they're ready to come and give you money when you get on your cam.
You can even post a schedule on your page to let them know exactly when you're going to be online and ready to have some fun with them.
Try It Out
Of course, the first step of all of this is simply to try it out for yourself. You can sign up right now and see if it's as much fun as you think that it will be. It's free to start using it.
I'd say just sign up and decide that you don't want to spend your time on it. You'll never be under any obligation to continue broadcasting if you don't want to. It's the best way to check it all out and have fun while you earn your tips and private show money.