Homemade porn is what some of these cam fans are searching for. It's not uncommon for many of them to DM asking for some custom clips or porn videos that you've made yourself. This is all well and good if you do it right. I've covered the basics when it comes to selling porn you've made in the comfort of your home. This is extra important not that we're in a pandemic with COVD-19 too. It makes making money much easier.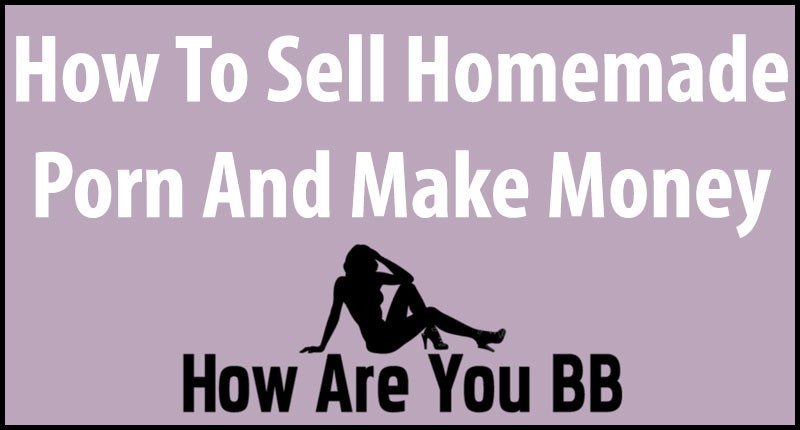 Tips For Selling Homemade Porn
The best thing about living in the modern world is that it's never been easier to use your skills and talents to make money. Some people use their ability to play video games to pay the bills. Other people use their talents at writing to make a living directly selling erotica.
Still, other people use their bodies in ways that would have been impossible even a few years ago. It's never been easier to make and sell your own porn. You can do it with someone else or you can do it all alone. Just think about how much money you can make just by turning on a camera before starting your nightly bate session.
Residual Income Always Makes Money
There's a very solid reason to sell clips rather than rely solely on your cam shows. It's also very simple. Clips can make you money while you're sleeping, eating, or doing anything at all that isn't giving a cam show.
Your clips will always be available for people to download. They're going to create an income stream that you don't have to actively maintain. All it takes is uploading new content and the money will keep coming in.
You Don't Need A Schedule
Unlike your camming life, your clips don't need a schedule. You don't have to set aside time to make them every single day. You don't have to let all of your customers know when they're going to be online. You simply make them and post them.
That's all there is to it. On top of that, you're setting your own prices for them. If you put a lot of work into a specific video, then you can sell it for more. You're not stuck with a range to charge for each minute. If you think a video is worth a lot, then you can sell it for a lot.
It Will Promote You
What might be the greatest reason to sell your clips is that it will promote all of your other adult content. You can use it to get people into your cam shows or you can use it to get them to buy your products.
No matter what you're selling, you'll have people buying your clips then trying to figure out how they can get more of you. It will drive new customers your way and make sure there are always new ones coming for you.
It's Open To Men And Women
There are no gender restrictions here. Men stand to make just as much money as women. All you really need is a desire to use your body to make money. It doesn't even matter what you look like. There's a fetish for every single body type out there.
You never have to look at yourself and think that you can't sell clips. As long as you're doing something that people want to see, you'll be able to sell it to more than enough of them. There's always someone willing to buy your porn.
Use As Many Sites As You Can
There's no shortage of sites that you can use to sell your clips. Your best bet is really to use as many of them as you possibly can even the OnlyFans.com site. The more sites you're on, the more people you can reach. There's never any problem with uploading the same videos to multiple platforms.
All you really have to do is make sure you're within the guidelines of each one. You can make one video then enjoy the profits coming in from multiple sites. It will also help you to promote yourself to even more people than you would otherwise reach.
The more sites you're on, the more money you can make. It's really just as simple as that. Oh, and if you're not using Camsoda.com, then start here with this!
Give It A Shot And See
You don't have to simply read about how much selling clips can make you. You can try it out for yourself. No legitimate site is going to charge you to upload on their platform. It's totally free to do anywhere you want. The only thing it will cost you is the time to make it and the time to promote it.
Try to guide as much traffic to your video as you can and then just sit back. You'll be able to get a good idea of what you can expect from each clip. The more you upload, the more exponentially that income will grow. Give it a shot and see it all for yourself. You'll never want to go back to just camming again.