I've been covering a lot of cam sites lately. The reason being, I got some emails, enough of them to make me want to really dive into many more sites and cover what I know about them. It seems that I've got both models and consumers reading my blog these days (no complaints! The more the merrier!). That said, I have made it a point to cover various sites and provide information to both consumers and cam models so that I can provide info to everyone. That said, I am here today to cover a site called Stripchat.
This is one of the many live strip chat sites on the Internet today. It's quite good actually and one that you need to learn more about. I have covered not only the basics but everything else in between that you need to know about. Keep reading for all the details…

Stripchat.com Review (It's A Great Cam Site)
There are a lot of cam sites out there and it can be difficult to know whether or not you happen to be on a good one. There are so many around that you can't possibly check them all out for yourself.
There are a few different features that you can look for to make sure you're getting everything you need for a good camming experience. The first thing to check out is whether or not you tip in public chat. This makes for a very different time than you'd have on sites that require private shows.
The next thing to look at is the number of girls and the way they're all organized. It will tell you what the site focuses on and the kind of niches that you can play with. That's where StripChat comes in. This is a great cam site that does it all for you.
There Are Thousands Of Models
The consumer will love this factor, any time you can find thousands of models online at the same time is going to be a good time. This site has almost three thousand of them on at any time of the day or night. That means you're always going to be able to find someone who's willing to do the things you want them to.
The models are all organized well so you can find the right girl right away. They're all ready to be browsed by age, ethnicity, body type, or specialty. You can find any age from teen to granny. There are also models in their twenties, MILFs and matures to check out.
There's every ethnicity from Arab to white, ebony, Indian, and Latina. No matter what you want, you can find it right here and have the fun you need to have with them.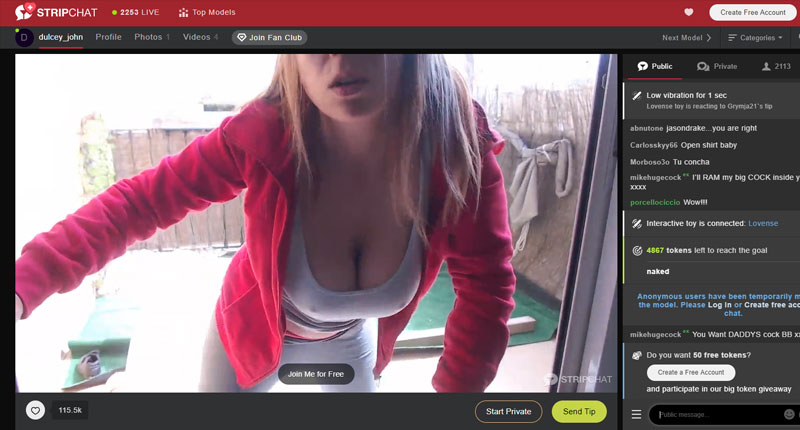 Have Fun In Public And Private
The best thing about the site is that they let you tip out in the public chats. I'm talking about the non-exclusive public chat sessions. You know, when cam girls like me get online and start chatting. That means the models will usually have interactive sex toys that you can set off for them.
They'll respond to your tips and you can set them off at any intensity and length of time that you want. You'll still have the ability to go private if you want, though. It lets you use the site however you want to have the kind of fun that you enjoy the most.
Conclusion: Use Strip Chat Today
This is a site that you should be checking out right now. It has everything you could possibly want in a cam site. You can tip in the public rooms as well as take your favorite models private. There are thousands of them online at any time and they're all organized by any of the most important features.
You can search by age or body type and get right into the chat rooms that you want to check out. The models are all amazing and they come from all over the world. It's a great cam site for anyone to check out.
Please remember, this is only one of the many cam sites that I've covered over the years. Check out the full list of sites I've researched before you start using this one. Anyway, I think that will help you make a choice as to whether or not this Stripchat site is for you. Should you have any more questions, please be sure to hit me up online!