Choosing a name for your cam model persona isn't tough, but it's something that you need to think about. This article covers everything you need to know about creating your persona and most importantly, how to choose a good name. Camming names can make a difference in earnings and branding ability, so put time into it!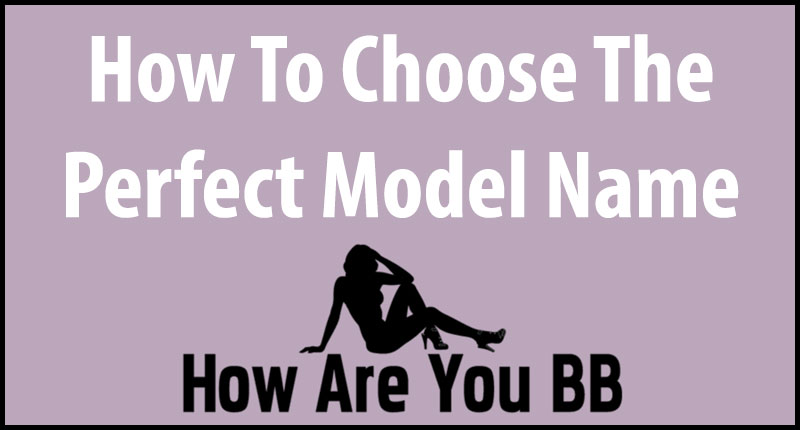 Choosing A Name For Your Cam Persona
One of the most important things that you can do as a new cam girl is to choose your name. No one should ever just pick a name out of the blue. You have to put a little bit of thought into it to make sure that you're getting the most out of it.
You'll also have to consider things that you might not be thinking about. That includes the ease of someone remembering it, searching for it, and knowing what to expect when they find it. If you make sure that it fits, it will always serve you well.
Use A Real Name
The first thing that you want to make sure you do is to use a real name. That doesn't mean using your real name, though. You just don't want to go the online gamer route.
Picking a name like AnalBlaster69 or StinkFinger666 may sound fun, but it's not a draw. No one is going to take someone with a name like that seriously.
You want to use a real name like Alexis or Kelly. As long as it's not really yours, you'll never have to worry about it being connected to you in any way.
Pick A Name You Like
On top of that, you can finally choose a name that you like. If you've ever wished that you were named something else, this is where you get to make it happen.
You can pick any name that you like and it will be your online ID. You'll get to see it every time you log on. It will also make it extremely easy for you to remember it.
Don't forget, you will be able to use a name that you've always known and wanted to be known by. It's fantasy fulfillment along with a strong business decision.
Choose A Sexy Name
The next thing you want to make sure you do is to choose a sexy name. "Sexy" doesn't mean sexual, though. SwollenClitKate is a sexual name, but not a sexy one. HelgaFartBoxFiller is the same.
You want to pick a name that sounds sexy. Just think in the same direction as porn stars. Diva Devine is a sexy name.
Any name that gets you thinking in the way of eroticism and sex is the way to go. It's something that happens in your mind, so just run through a few and see what works for you.
Make It Memorable
You also want a name that you don't have to work to remember. This is where alliteration and rhyming are your friends. Just pick that favorite name of yours and see what it sounds like. You can also rely on state rhyming.
Alexis Texas aka Texas Alexis, for example, is a memorable name that tells the customers what to expect from you. This is where you really have to spend most of your time figuring it out.
Once again, you want to go with sexy over sexual. Sexy gets them in the room and sexual keeps them around. Oh, I need to mention Brandi Love as well. A camming icon and top performer. Fans LOVE her…pun intended!
Stay Away From Weird Spellings
Once you pick your name, make sure you use a simple spelling. This is important to make sure that you're not losing money because your customers just can't find you. You never want to throw in any extra letters or anything like that. Just keep it as simple as straight forward as you possibly can.
If your name already has a complicated spelling then you might want to simplify it. Violette can be turned into Violet to make sure no one is going to miss you by just a few letters when they're looking for you.
Try Not To Change It (Ever)
Once you finally settle on your name, make sure you stick with it. It's how people are going to be finding you across multiple platforms. Keep it simple and keep it.
That's how you get models with thousands of regular customers who always have the money rolling in for them. It's how you can be a successful cam girl and turn it into your own business. It's called brand recognition and that's how you have to think about it.
Your name is your brand, and it has to tell your audience everything that you have to offer them. If you need a few examples, simply check out the famous and successful cam girls. They've all chosen names that work for them and bring in the traffic. It's the first step toward becoming a successful cam girl with multiple cash streams to live off of.