Looking to make a bunch of cash, but you want to know how much you can cash in on? You're not alone, trust me on this one. That said, I've got some great insight into the level of money that you can make as a cam model and the factors that play a role here.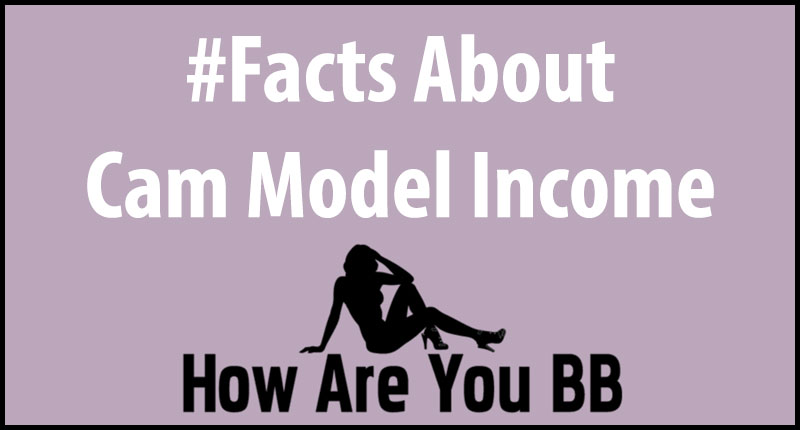 Cam Model Income #Facts
Everyone has the same question when they start thinking about becoming a cam model. They always want to know just how much money they can expect to pull in. Unfortunately, there's just no good answer to that. It depends on a lot of different factors.
Your network will drive a lot of traffic to your cam but it never guarantees any income. That will all depend on your personality, video quality, show type, and plenty of other things. All you can really do is make sure that you're opening yourself up to as much income as possible. Here are some ways that you can do that.
Personality Is Key
Your personality is the most important factor in your income. There are far too many cam models who believe they just have to take off their clothes to make money. That's never the case. Men and women can see naked people for free whenever they want.
They're going to cam rooms because they want to have fun with the models. That means talking to them like they're your friends and being warm and inviting. If you can engage with them on a human level then you'll be rewarded with regular customers and plenty of income.
High Quality Feeds Make Money
Up next on the level of importance is your audio and video quality. Everyone considering a life of camming should be able to broadcast in high definition. That means an HD camera and a decent internet connection.
If you're using a laptop camera then you might want to consider buying a standalone webcam. You'll also want to connect to the internet with an Ethernet cable instead of your Wi-Fi. It's a much faster and more stable way of connecting and you want all of the speed that you can get.
Always Look Your Best
This is where you have to think of camming like a regular job. You wouldn't just roll out of bed and head out to work. If you would, then you're the "that person" of your workplace. You have to look your best and that means showering, applying makeup, and dressing for the part.
Turning on your cam when you're still wearing the clothes with stains from your last broadcast isn't just gross and unappealing, it's dangerous. You need clean clothes and toys to keep yourself healthy and guide the traffic into your room instead of the others.
Stay Online And Make Money
The simplest way to think of camming is to think of your time as money. The more of it that you spend online, the more money you're going to make. A model that's on her cam for eight hours a day is going to make more than one that's only on for four.
You have to be fun and engaging that entire time. It's more difficult than it seems and it's why not all women are successful at camming. You want to make yourself as available as possible and get the customers that the other girls are losing when they log off.
Experiment With Your Shows
While you're online, you'll want to experiment with different types of shows to see which ones are the most profitable for you. There are lots of different ways that you can go about giving your shows. You can give public tip shows that bring you from fully clothed to having an orgasm.
You can reserve the action for private shows. You can even delve into fetish shows. Just make sure that the ones you go with work for you. Just because a type of show works for someone else doesn't mean it will work for you.
Work On Your Profile
Your profile is what people use to see if you're worth their money. That means that you have to work on it and make it look as good as possible. Make sure you list all of the things that you're willing to do for money.
Put up plenty of free photos of yourself. No one is ever going to buy a show from a model that he hasn't already seen mostly naked. Write it all as if you're speaking directly to the person who's reading it and you'll be selling yourself well.
Sell Actual Goods
Aside from actually camming, you should be making money from other things. One of the best ways to do that is to sell actual things that you can send to people. You can easily sell your used panties to your customers.
You can also sell your socks, bras, stockings, shoes. Actually, you can sell anything else that you wear. On top of that, you can also sell your used sex toys or even lipstick imprints of your lips, vagina, and breasts.
If you can imagine it, you can sell it. If it's a tangible good, you can sell it. Just make sure you work the cost of the objects into the price tag and make yourself an actual profit.
Make Custom Videos
There are always going to be customers who want custom videos that they can watch when you're offline. This is a great way to make additional income. You'll just have to make sure that you're up for doing very specific things properly.
If a customer wants to see you getting naked on the sofa and eating ice cream, then that's what you have to do. If you're not willing to do it then don't accept the job. A customer who pays for a video that doesn't have what they want is going to make sure that everyone knows you're running a scam.
Make As Much Money As Possible
While there's still no way to say how much you can expect to make, these are the best ways to make sure that you can make as much as possible.
Give yourself as many opportunities as you can to bring on the money. The more you're making, the happier you'll be and the better shows you'll give. It will all work and intertwine with itself to make camming a very profitable way to earn money.