There are lots of different games that you can play with your fans. If you're not playing games, then you're likely leaving money on the table. I can almost guarantee that for a fact! When I started playing games, it really boosted my earnings because it kept people in private chats longer. Here are some tips and game suggestions if you want to earn more money today.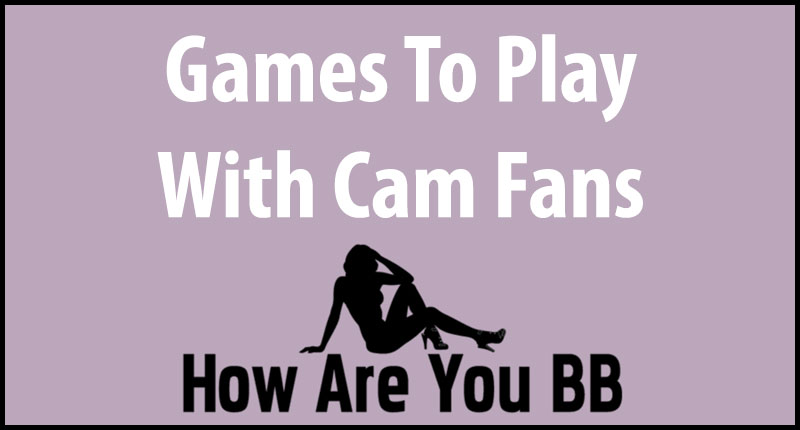 Webcam Games For Boost Tip Money From Fans
​If you cam on a site that is set up like MyFreeCams, where you spend the majority of your time in public chat waiting for tips to reach your goal, it's definitely a good idea to play games with your fans. Not only will this make the time go by faster, but it encourages interaction between you and your fans.
It's fun for everyone! There are lots of different games that you can play. I'm gonna go over a few of the more popular ones in this article, but of course, you can always be creative and come up with new games that you think your fans will like.
Card Games
There are several card games that are easy to play while on cam. The first is Blackjack. When a fan of yours tips to play Blackjack with you, all you have to do is shuffle the deck, deal a card to yourself face down, deal a card to your fan face up, deal another card to yourself face up, and another card to your fan face up.
Your fan then gets to decide if they want to hit (take another card) or stay. The goal is to get as close to 21 as possible, without going over. If they go over, you automatically win. Once they're satisfied with their hand and decide to stay, you flip over your face-down card. Now it's your turn to hit or stay to try and beat their score.
War or High/Low, is another easy card game to play on cam. All you do is shuffle the deck, and draw a card for yourself and one for your fan. High card wins. Easy!
Dice Games
Dice games are also simple, yet fun to play with your fans. One of the most popular dice games is Spank Dice. It's best to either use 20-sided dice or several regular dice for this game.
It's up to you how you play it. One way is rolling the dice and spanking yourself the number of times that comes up. Another way would be if the number is odd, your fan loses and you don't have to spank yourself. But if it's even, you spank yourself that many times.
You can even play Yahtzee with your fans. You roll five dice and show them to your fan. They decide if they want to hold any dice and then you roll the other dice again.
Repeat letting them hold or roll dice one final time. Depending on what they end up with, give them better prizes for a better hand: three of a kind, four of a kind, full house, small straight, large straight, Yahtzee.
Wheel Spins / Bag Grab
The wheel spins or grab bag, if you don't have a wheel, is another fun way to entertain your fans. You can put anything you want as a prize.
To make the game really interesting, you can even put bad things up as prizes. For example, start over the current goal countdown, add a certain number of tokens to the countdown, put back on an article of clothing, etc.
Hangman
Not as popular of a game, but still something to pass the time. Think of a word and draw out Hangman. When a fan tips to play, you give them a certain number of letters that they can guess per turn.
If they think they know the answer, they can tip to guess. If the word is correctly figured out before you finish drawing hangman, everyone who participated gets a prize. You can announce the prize beforehand, or make things more interesting by having it be a random draw.
Guess The Lucky Number
Pick a random number between 1 and 100 (or whatever range you want). In order to guess a number, your fans have to tip that number. So if they want to guess 13, they tip you 13 tokens.
Keep an updated list of the numbers that were already guessed so they aren't guessed more than once. The person who tips the "lucky number" gets a prize.
Never Have I Ever
Never Have I Ever is a lot of fun! You can either buy the actual game or let your fan pick the "never have I ever" scenario. If you've done it, you take a sip of your drink. All of your fans can play along!
Balloon Popping
For Balloon Pop, you write different prizes on little pieces of paper and put them inside of balloons. You can make it completely random, or have certain color balloons have better prizes, and those cost more. When a fan buys one, you pick a balloon, pop it, and they win the prize inside.
Conclusion
As you can see, there are plenty of options here for games to play. If you're seriously looking to boost your earnings, then start playing these games. Hit the party store today for some of them and watch your bank account balance jump quickly.