Your profile and image are super important to your success. Yes, I said super important because it's that important! This article will cover everything I have learned about images and your profile in general. Having spent tons of time chatting with cam users, I can give you all the tips and pointers that I've learned over the years. It's safe to say that I've optimized my profile via my image over the years and I know what works and doesn't work!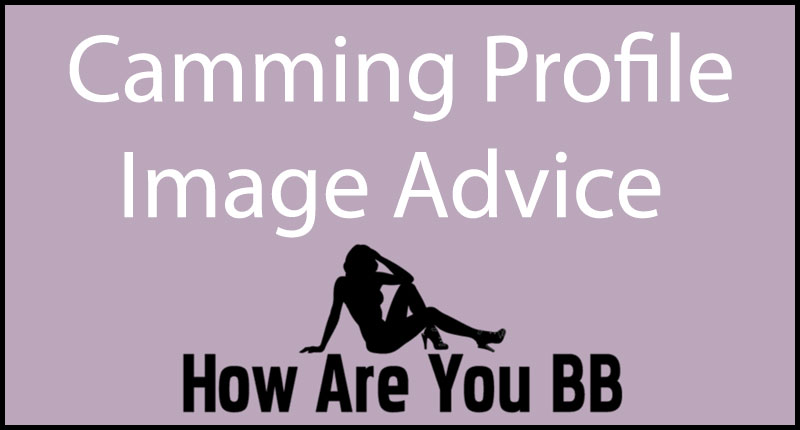 My Detailed Webcam Model Profile Image Tips For Success
A model's profile is one of the most important things about her. Unfortunately, it's also one of the biggest pains about camming. Most girls just want to get out there and make money with their bodies and that's more than understandable.
The problem is that you need to entice people into your cam room before you can take off your clothes for them. No, it doesn't make a whole lot of sense. You'd think that offering your naked body to people would be more than enough to get them into your room. Think about it from their perspective, though.
They have thousands of options to choose from. No cam site user can even get through the homepage without seeing at least a few dozen naked women. They can give their money to any of them that they want. The thing you have to realize is that it's not all about the naked boobies.
Viewers want to know what they can do with you once they start paying you. They want to know what you're offering them. If a viewer wants a girl with interactive sex toys and paddles, he or she isn't going to waste their time on a girl with neither. That's why they're always going to check out your profile first.
Be Reasonable With It
When you sit down to make yours, spend a few minutes deciding on how active you want to be with it. You can really put anything you want there, so make sure you figure it all out before you commit yourself. If you don't want to force yourself to update it every single day, stay away from information that you have to change.
This can be your camming times, the outfit you're planning on wearing, or even your thoughts for the day. If you can work out a regular schedule then you might want to be a little forgiving with it when you post it. Don't promise to be on during certain hours every single day when you know you won't be able to make it.
Just say that you're usually on from around this time to that time on these days. That's going to keep you from having to constantly change it and it's going to keep your viewers from being there and getting upset when you're not around for them. Just speak generally and you'll never let anyone down.
Tell Them What You Have To Offer
If your hours are pretty important, then letting people know what you have to offer them is super important. This is what's going to drive them to your room and it's tricky to lay it all out via text. Naturally, what you do on your cam is up to you, but you still have to advertise it.
First up on this list is whether or not you offer tip menus. If you do, show it all right on your profile. Make sure you update it if you ever change it. This is the one thing that should be as accurate as you can make it. The next thing to add is if you have interactive sex toys. These things are highly sought after by the users, so if you have them, make sure you advertise them.
You should also list your settings for them. Tell them exactly how long and at what intensity each tip is going to mean for the toys. Each viewer has his or her own preferences and they're going to make sure that anyone they watch matches them as closely as possible. It's how you get them into your room and not someone else's.
Jazz It Up
After you figure out all that, you may want to consider making your profile nice and flashy. That might require a little bit of know-how. Most cam sites let you use HTML in your profile. If yours does then you really want to consider using it.
It doesn't have to be anything too intense. Learning a little bit of it will go a long way here. Just figure out how to post links, lists, and how to make text bold. That's going to make you stand out a little bit and that's really the name of the game here.
Use Photoshop
The thing about Photoshop is that it's super expensive. Actually getting the newest version of it can run you almost $1,000, and that's not even taking their ridiculous monthly options into consideration. Still, if you put in enough effort, you can find older versions of it for free.
If you don't want to go that route, you can always try to find one of the many online equivalents. Then you can start making a great image to put in place of text on your profile. Just spend some time checking out the profiles that the other girls put up.
There are a large number of them that simply have a giant Photoshopped image with all of their information on it. It's flashy and it draws the eye. If you can get something like that, and make it unique to you, you'll always have people checking you out.
Link To Your Side Hustles
Once again, and just like everything else, what you offer on the side of your cam sessions is up to you. There's really no limit to the ways that you can use your body to make you money. Some cam girls like to sell their worn panties.
Others sell their used sex toys. Some of them even sell their clothes after they've been stained with bodily fluids. What you sell is up to you, but make sure that you always link to it on your profile.
The viewers who really like you are always going to want more of you. If you have it all linked and listed on your profile, they'll be able to exchange money for it, whether or not you're online. It's one of the best uses of your profile and will keep the money flowing in.
Conclusion: Put Time Into Your Image
Look, the bottom line is quite simple. You need to care about your image. This is what makes or breaks your success in the adult camming world. Put in your work and make bread, like me. I promise you will be successful. If you have any issues, just reach out to me and I'll gladly help!
Recommended Article: Brandi Love Cam Profile Optimization Tips