We all know how important it is to have a killer profile on cam sites. Well, hands-down the best way for any cam model to make sure they have people to support their shows is to host a fan club. It might sound like something that only happens in the "mainstream" world, but there are fan clubs for plenty of adult models out there. Trust me, these fans are loyal AF and they will spend money – guaranteed!
The best thing about running your own fan club is that you get to choose what gets shared and what doesn't. You're the one deciding what material gets saved behind a paywall and what gets posted for free. It's always up to you and you get to invite your fan base to be a part of any new endeavor.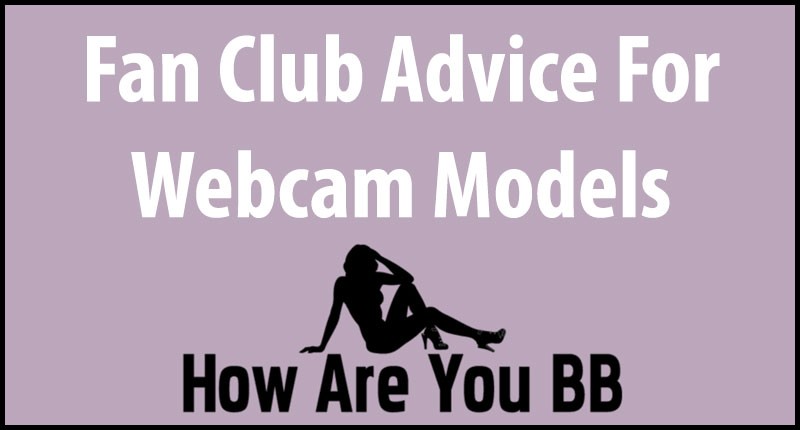 Fan Club Advice For Cam Models
Without wasting any time, here's what you should consider and why…
Adding Subscriptions To Your Fan Site
You're also going to want to look into selling subscriptions to your fans. There are plenty of sites on the internet that cater to exactly that. What it lets you do is take in monthly or weekly fees in exchange for regular updates.
They can be photos, videos, or pretty much anything you want. You just have to be consistent with your output. If people are paying for weekly content, then they need to get weekly content. Otherwise, they're just giving you money for nothing and no one is going to do that willingly.
Upload Before You Launch
Whether it's a subscription service or a fan club, you're going to want to populate it with content before you launch it. You can't expect people to sign up for a service that they can't see first.
You'll want a decent backlog of material that they can go through while waiting for your new content to come out. They'll also be able to see that the archives are constantly growing and that will give them more than enough reason to sign up for it.
Queue Up Your Posts
One of the most important things that you want to do is to create a queue. You can schedule your posts to come out as often as you want. You just want to have at least a month's worth of uploads already finished.
That will let them come out regularly with no interruptions. This means you can focus on live shows and private shows while your fans think you're actively updating the fan club.
It doesn't matter what you have going on at the time. You know that your posts are coming out as they're supposed to. Any new content that you make just goes to the end of the line. It's the best way to run any sort of content business.
Introductory Rates Get Them In
To get loyal customers that always give you their business, it's a great idea to offer an introductory rate. This is something that you want to do right from the beginning, though.
If someone is a customer for six months, then sees that you're giving newcomers a break in the price that they're not getting, they're not going to be loyal to you for much longer. Set your prices and give someone a discount for signing up right from the beginning and it will bring in plenty of customers for 1.
Now if someone cancels or leaves, you can offer them a win back via email. You'll have to check the terms with whatever merchant you're using, but chances are you can get them back with a discount offer.
Promote As Much As You Can
Once you have your fan club set up and running, you have to start promoting it. Once you start, you can never stop. It has to be a constant in your life. The more you promote yourself, the more people will join your club. It's really that simple.
You can do it on social media and you can do it on adult sites. You always want to have your Twitter account updated at all times. Let the people know about your introductory rates and let them know about your new posts. You can also share clips on plenty of cam sites out there. Show yourself off and there will always be people looking to buy more.
The Money Adds Up
You might be looking at all of the work you have to put in and seeing it as a lost leader. That's not the case at all. Just because you're only charging a small amount per subscription doesn't mean that you're not making a lot of money.
Charging $15 per person is going to add up very quickly. Just having 100 people in your club is going to net you $1,500 a month. The more you promote and post, the more people will come. 1000 paying customers will bring in $15,000 per month and that's nothing to sneeze at.
Network And You'll Succeed
Get in good with other cam models and cross-promote each other. Advertise your fan club as much as you can. Just keep on working at it and you'll see it all start to grow. Before you know it, you'll be able to fully support yourself on nothing but photos and videos that you post. It's the best way to live a life that anyone's ever come up with besides being independently wealthy.
Now, I must add, while this fan club money is good, there is way more money in live exclusive shows for sure! That holds especially true if you've got special skills and are comfortable doing fetish shows. Heck, if you can squirt for fans, then you'll make it rain – pun intended!