There are a lot of fetishes that people have today. Consumers often look towards cam models to help get them off. When they have fetishes that they like but are afraid to ask someone, they often turn to us to fulfill that fantasy. This is where we can really clean up and make bank! This blog post covers everything you need to know about fur fetish and why consumers love fur as well as faux fur!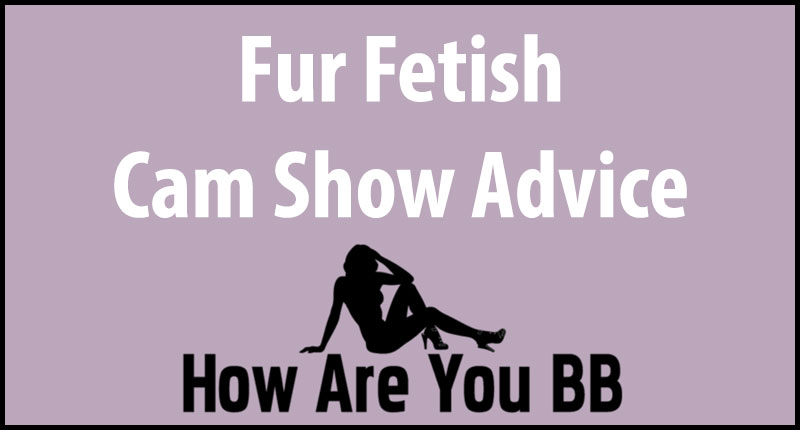 Fur Fetish Guide For Cam Models
Not everyone knows what the fur fetish is. If you don't have it or haven't had a client ask about it, then chances aren't all that high of you coming across it. That doesn't mean it's not a very lucrative way to make your living. There are more than enough men and women out there who enjoy the fur fetish just as much as other people enjoy leather or spandex.
Just thinking about a woman (yourself even) wearing a fur will give you a good idea of what it's all about. There are the sensations that come from the material itself. Then there are the attributes that are afforded to the person.
To the consumer with a fur fetish, a woman in fur is dominant. She's wealthy.
In fact, she's wealthy because she dominates you and takes your money. The findom fetish goes hand in hand with the fur fetish. That's what makes it such a great way to make money with your cam and your body.
How To Give A Fur Show
Once you're in your cam show with your furs, you have to figure out what to do. You can't just sit there with the coats on and expect the tips to roll in. You need a hook that you offer and no one else does. Fetishists know where to look and they can find attractive girls in coats wherever they want.
Adding sex to your fur play is always a good way to get started. Fur fetishists are always interested in seeing fur get someone off. Balling it up and riding it is an action that will start to get you the attention that you want.
Just try wrapping it around a pillow and humping it on cam to see how many new fans it brings into your room. Just think of any way that you, as a wealthy and luxury-loving woman would use such an expensive piece of clothing for nothing more than something to rub on her intimate areas.
Fur And Feet
The fur fetish and the foot fetish can go hand in hand. You don't have to go out on a limb to see how. All it really takes is a plush fur and a naked pair of feet.
Men and women love to see their dominants run their toes through fur, or simply walk all over it. You can also let your shoes dangle over them with the threat of them falling off bringing in more and more people.
Money And The Fetish
The one thing you really have to realize is that you're never going to make much money with fur alone. The niche is intense, but it's also small. You could be one of the biggest fur fetish providers around and still not pull in much money.
What it takes is mixing the fur fetish with other fetishes. Think of a fur as a steroid shot to the other fetishes you're using to make money. You'll end up pulling in two different fan bases at the same time, along with their money.
Keeping Yourself Safe
The fur fetish can't be mentioned without having to spend some time on PETA and other animal rights activists. There are more than enough of them out there and they love to harass people.
Reasoning with them is next to impossible. That's why it's so important to keep yourself safe. Limit your interactions on mainstream social media sites. They'll always find you.
You're also going to need to make sure you keep your location completely private. You can only get so many people threatening to burn down your house before you come across someone who's actually crazy enough to do it.
Getting Your Furs
If you're looking into the fur fetish then the chances of you already having one are pretty high. That's going to be your starting point. Use it to begin growing your fan base.
You're going to be surprised at just how many people are willing to buy you some brand new furs to see on your shows. Make sure you incorporate as many of them as you possibly can.
Doing cam shows that only involve you putting on furs over furs is always a good idea. Once you find the people who really love the fetish, you shouldn't have to do much to keep them rolling in. Just grow your collection as large as you possibly. You'll want a fur for any play that you can think of, then you'll want a few more.
If you do have to buy some furs, just think about it as investing in yourself as a business. It's a necessary step that will only serve to help you pull in more fans that are willing to pay to see what you do with the furs that they love so much. It's a great way to make some great money and have something to add to your other fetishes.