In this article below you will get an idea of all the most popular terms used within the cam industry. If you're a cam model or consumer, you're going to want to understand what each of these words means and why. I believe that this is perhaps the most important article posted on my site. The reason I say that is that it's super informative and easy to understand as well as an ongoing evergreen reference doc that you can use!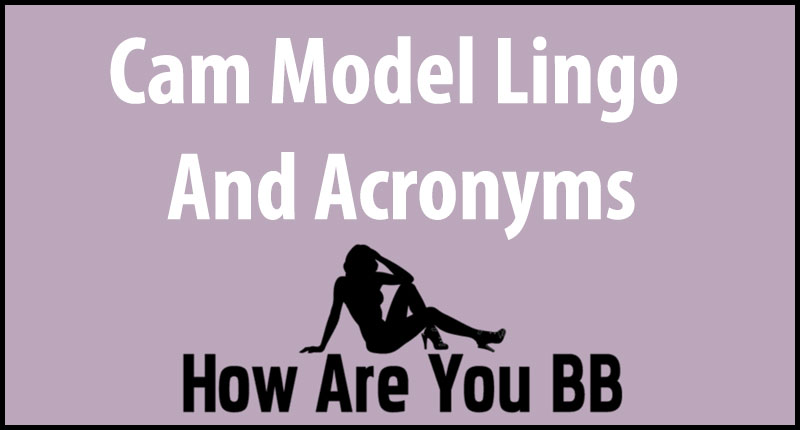 Webcam Slang & Definitions
​If you're gonna be a really good cam model, you better start learning all of the lingo and acronyms now. There are so many different fetishes out there, and with new things becoming popular all the time, I'll probably be able to double this list in a few months.​ 😛 This is a list of popular terms and abbreviations that you'll more than likely see a pop-up at some point in your camming career.
AP – Age play. Roleplaying an age that you aren't. Generally pretending to be younger than you are, even to the point of being underage.
ATM or A2M – Ass to mouth. Putting something in your ass and then putting that object in your mouth.
Bae – Before Anyone Else. It's used as a term for endearment, replacing baby.
BB – A shortened way to say baby or babe.
BBC – Big black cock.
BBW – Big beautiful woman. A larger woman.
BDSM – Bondage & Discipline / Sadism & Masochism. Roleplay involves bondage, dominance, and submission.
B/G or BG – Boy/girl.
BJ – Blow job.
Brown video – A video involving poop.
BTS – Behind the scenes.
C2C – Cam to cam. This is when your fan turns their camera on so you can watch them while they watch you.
C4S= Clips4sale.
CB – Chaturbate.
CBT – Cock and ball torture. Physical pain to a man's genitalia.
CD – Crossdresser.
CEI – Cum eating instruction. A fetish involving you telling the guy to eat his own cum.
Cougar – An older woman going after a younger guy.
Countdown – Counting down and then giving someone permission to cum at the end of the countdown.
Cuckold or cuck – When a wife fucks another man in front of her husband as a way to emasculate him.
Deep throat – Taking a dildo or cock down your throat.
DP – Double penetration. Taking an object in both your pussy and ass at the same time.
Edging – Getting yourself to the point where you're about to cum and then not actually finishing.
ELM – Extralunchmoney.
Facial – Cumming on someone's face.
Femdom – A female taking the dominant role.
Findom – Financial domination.
GFE – Girlfriend experience. Making someone feel like they're dating you, usually with flirty texts and pictures throughout the day.
G/G or GG – Girl/girl.
GILF – Grandma I'd like to fuck.
GR= GiftRocket.
GTS – Giantess. A fetish involving role-playing that you're a giant and usually crushing or eating normal-sized people.
Homewrecker – Roleplay involving making a guy cheat on his wife or ruining his home life.
JOE – Jerk off encouragement.
JOI – Jerk off instruction. Telling a guy exactly how to stroke their cock. Usually involves doing the hand motion of a guy jerking off.
Magic wand/Hitachi – A vibrating massager.
MFC – Myfreecams.
MILF – Mom I'd like to fuck.
Ninja – A person who tips anonymously in your cam room.
PM – Private message.
POV – Point of view. Making the viewer feel as if he's the one fucking you in the video or that you're talking directly to them.
PSO – Phone sex operator.
Queef – Making a farting noise with your pussy by passing air through it.
RP – Roleplay. Acting out a fantasy or fetish.
SM – Streamate.
SPH – Small penis humiliation. Teasing someone for having a fat cock.
SW – Stripper Web.
T&D – Tease and denial.
Taboo – Things that are forbidden or typically looked down on.
Troll – Someone who tries to get a rise out of you on purpose. They get off on seeing you upset.
Voyeur – a person who gains sexual pleasure from watching others when they are naked or engaged in sexual activity.
Yellow Video – Video involving pee.
Yellow Wall – When tips on MFC come in very quickly and fill the whole chat feed.