There are ways to increase or improve your visibility aka reach on cam sites. It has a lot to do with your cam score. In this article, I cover all the things you need to know if you want to improve your reach and overall score as well as visibility. Let this article serve as a baseline for growing your visibility to become a popular cam model.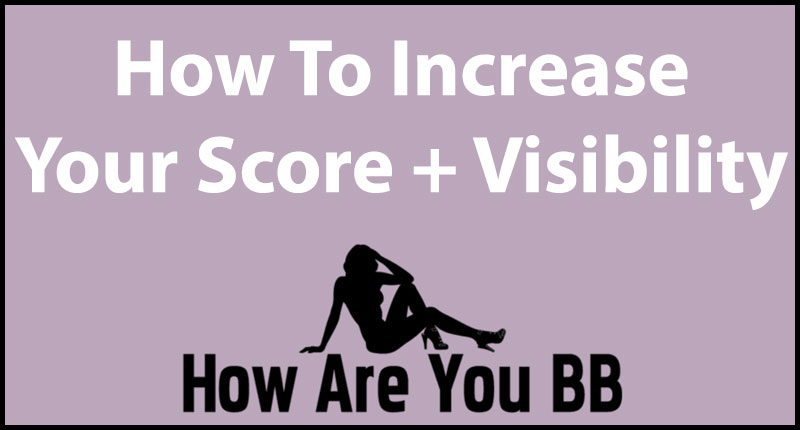 Tips For Increasing Your Cam Score
Most camming guides focus on the same few points over and over again. They tell you how to interact with your viewers, how to manage your tips, what to offer on your cam and things like that. Those are all major aspects of your cam sessions that you have to think about, but they're not the only ones. One of the biggest problems that new cam girls can have is getting their visibility up.
It's a struggle that you have to deal with from the very first second that you decide to start camming all of the way until you decide that it's time to hang up your sex toys. Increasing visibility isn't just about getting people into your room. It's about being seen on the cam site that you're using so you have as many potential viewers as you can possibly get.
Any time someone logs into their cam site of choice, they have to find someone who looks interesting enough to spend money on. If they're like the vast majority of users out there, that means they're going to be choosing from the first 25 or so cam models that the site decides to show them. The trick of it all is making sure that you're one of those 25.
Understanding Your Cam Score
All sites use a cam score. They may not call it that, but it always works the same. You get yours attached to you every single time you log into your cam. It will change the entire time you're online and decide where you show up on the site's main page.
How it works is pretty convoluted and no one ever really explains how they work it out. Basically, it always depends on the amount of time you're broadcasting and the amount of tokens or credits you're taking in. This, in turn, tells the site where to put you in order of your overall score. Let's say that you're online for ten minutes.
If you somehow manage to get 1,000 tokens in this time, your score is probably going to be pretty high and you'll be near the top of the list. If you're broadcasting for twelve hours and only have three tokens to show for it, you're going to be very low.
That means that, in order for anyone to find you, they'll have to scroll through page after page of model to get to you and decide that you're worth their money. Keep in mind that this is an extreme oversimplification of the way that the cam score works.
No site ever tells you how they're reaching their own specific numbers. There are still some things you can do to make sure you end up at the top of the list, instead of at the bottom.
Start Out Naked
This is a trick that can't be overlooked. It's something that can rocket you right to the top of the cam score listings. The only things that viewers have to go on is your thumbnail when they scroll past you. Seeing a girl who's already naked, and very obviously so, it going to make them flock to your room.
It's telling them that you're already in the middle of some action and they can just slip right into it. They don't have to wait for your goals to get hit to see what you have underneath your clothes for them. It will help you to get a large group of regulars that are always on the lookout for you.
If you want to save your nudity for later on in your sessions, do it after you get those regulars pouring in.  to start just log on naked and it's going to drive your traffic.
Offline Content
The one thing you should know above all others is that offline tips count just as much as online tips. They have the power to change your cam score overnight. Just think about it: if you cam for five hours and make a certain amount of tokens, you're getting one cam score when you log off.
Now consider offline content. These are videos that people have to spend money on to see. If you have a good amount of them, and they're selling, all of those tokens you're making will affect your cam score. You're still recorded as only having been broadcasting for five hours, but now your tokens have exploded without you having to do a single thing.
It's a surefire way of manipulating the algorithm in your favor and it's completely allowed. All you need to do is post some videos for people to buy when you're offline and you'll be rising through the ranks when you're sleeping, eating, shopping, or anything else instead of always being actively online and camming for your viewers.
Interactive Sex Toys
Finally, if you want to be anyone in the cam world, you have to use interactive sex toys. These are a must. If you don't have them, you're never going to be as popular as the girls that do. You're also never going to make as much money as they do.
You really need them to be successful in camming, no matter what your niche happens to be. These are toys that your viewers can set off with their tips. You have dozens of them to choose from and they all do something different.
Once you set them up, viewers will be able to pay you to see your reactions to them. There are toys that you insert, toys that go on the outside, even toys that are overdesigned pistons with dildos on the end of them.
Using these it going to drive tips and bring you right to the forefront of the cam score. Get them as early in your camming career as you possibly can and always have them on. It's what you need to get in front of the eyes that belong to the people who want to give you money and there's really no way around it. Interactive sex toys are your best friends.
Conclusion
If you do all these things suggested, I promise that you will for sure see a jump in rankings amongst other models. You'll see a major surge in fans and earnings overall too. Trust me on this, I've done this long enough to know what works and what doesn't.
See Also: