Summary: This article explains everything you need to know about JustForFans.com aka JustFor.Fans, the creator platform where sex workers can connect with fans safely. Find out why many sex workers and cam models choose this platform over others. This is my review and everything I know about the platform.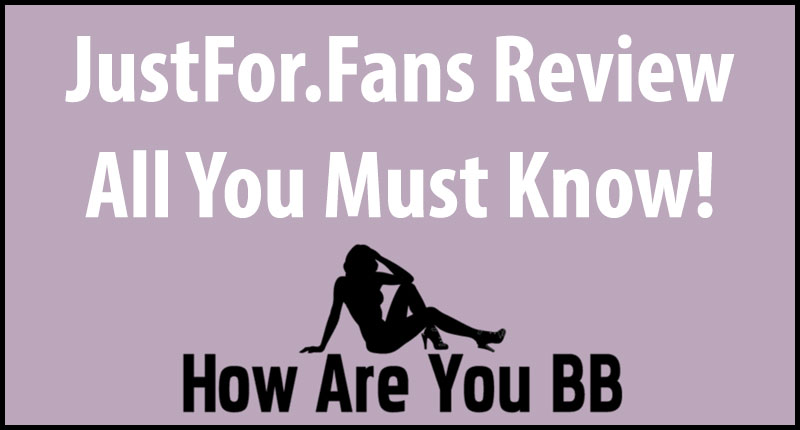 A distinctive platform called JustFor.Fans enable content producers to interact with their fans in a number of different ways. Other platforms just cannot compete with what content producers can provide in terms of exclusive content, behind-the-scenes access, and direct fan connection.
Additionally, JustFor.Fans enable content producers to earn money directly from their creations without going through a middleman. As a result, content producers can keep a larger portion of their earnings, and viewers can contribute money directly to the media they enjoy.
Finally, JustFor.Fans are dedicated to building a community that is secure and encouraging for everyone. They try to create a place where everyone may feel welcome and appreciated and have a stringent anti-harassment policy.
JustFor.Fans is a distinctive platform that gives fans and content producers numerous options to connect. Everybody can find something on JustFor.Fans, from exclusive material to direct monetization.
Guidelines For Managing A Justfor.Fans Page And Increasing Your Income
The internal traffic that you can simply tap into without paying any advertising prices is just one of the many reasons why JustFor.Fans is preferred by many new models who are attempting to expand their customer base. Optimizing your page for this sales traffic requires some marketing expertise, but here is a cheat sheet to get you going.
It's Vital For Justfor.Fans To Be Visually Stimulated
As a content creator, it's important to keep your audience engaged. One way to do this is by incorporating visual stimulation into your content. JustFor.Fans is a great platform for content creators to connect with their fans and share visual content. By sharing visual content, you're able to connect with your fans on a deeper level and keep them coming back for more.
Photos and videos play a significant role in the immersive experience that JustFor.Fans strive to give their users fans. Visual material is what keeps fans coming back for more, whether it's a steamy selfie, a hot video clip, or a behind-the-scenes glimpse at your favorite performer's life.
Make sure you consistently submit photographs and videos for your followers to enjoy if you're a creator on JustFor.Fans. It's one of the best methods to maintain their interest and keep them returning for more.
Boost Views With Automatic Promotion For Justfor.Fans
You always hunt for methods to differentiate yourself from the competition and win over new fans if you're an adult performer. Utilizing JustFor.Fans' automatic promotion is a fantastic approach to achieving this.
A social networking website called JustFor.Fans is dedicated to serving the needs of fans of adult acts. Your material is automatically shared with a larger audience when you use automated promotion, which can increase views and bring in new followers.
It's crucial to utilize automated marketing in order to expose your JustFor.Fans account to as many users as feasible. You may make sure that your account gets viewed by the individuals who are most likely to be interested in it by utilizing JustFor.Fans' automatic promotion tools. This, in turn, will improve your views and assist you in establishing a greater following.
How It Works – Simple And Easy To Use
Adult entertainers may interact with their fans and get paid for their work on the straightforward and user-friendly website known as JustFor.Fans. The platform is simple to use and browse and offers a number of features that enable artists to interact with their fans and grow a fanbase. For adult entertainers, JustFor.Fans is a terrific platform for interacting with their audience and earning money from their material.
A subscription-based network called JustFor.Fans enable content producers to interact with their followers and get paid for their work. JustFor.Fans is exceptional in that it gives content producers the freedom to choose their own price points and receive 85% of the money made from their work. JustFor.
Fans is a tempting alternative for content providers who want to optimize their earnings due to this high revenue share %. Additionally, JustFor.Fans provide a number of tools that help content producers interact with their audience and run their businesses. The ideal platform for content producers wishing to monetize their work and establish a close connection with their fans is JustFor.Fans.
How Can You Make Money With Justfor.Fans?
JustFor.Fans is a fantastic platform for artists to monetize their work. On JustFor.Fans, there are many ways to earn money, and performers can personalize their own pages to increase their revenue.
Performers can earn money in a variety of ways on JustFor.Fans. The most well-liked method is through tips, which site visitors can provide to performers. Additionally, fans have the option to subscribe to performers' pages, which grants them access to premium content and aids in sustaining the performer's livelihood. Additionally, artists can provide fans with access to premium content and goods.
An excellent option for artists to generate income and grow their fan base is through JustFor.Fans. The website is simple to use and provides a number of opportunities for performers to earn money.
The Future Of Justfor.Fans
A site called JustFor.Fans offers a special and private setting for connecting content producers and their followers. In this setting, authors can interact more deeply with their audience by sharing their experiences and insights.
One of the venues for content creation that is expanding the fastest is JustFor.Fans. The platform has amassed over two million registered users in just two years and is still expanding exponentially.
Future plans for JustFor.Fans are quite exciting. The platform has so much room to expand and has only begun to scratch the surface of what is conceivable. In the upcoming years, we anticipate that JustFor.Fans Followers will take over as the preferred platform for connecting content creators and their fans.
Why Justfor.Fans Is The Best Platform For Adult Content Creators
Finding a platform that is not only safe and secure but also offers a number of tools to help you build your brand is crucial if you are a creator of adult material. Because of this, JustFor.Fans is the ideal venue for producers of adult material. This is why:
The platform for adult content producers, JustFor.Fans, is completely secure and safe. Your privacy is always safeguarded because no personal information is ever needed.
You can build your brand using the services that JustFor.Fans has to offer. You may quickly create a group of supporters for your work using tools like Fan Clubs. Additionally, you may sell goods, get access to premium content, and do a lot more.
One of the most cost-effective venues for producing adult material is JustFor.Fans. You keep all of your earnings, and there are no monthly fees.
If you're seeking for a platform to create pornographic content that is safe, secure, and reasonably priced.